Here's how some Marylanders spent the first 80 degree day of the year!
GAITHERSBURG, Md. - Record high temperatures across the D.C. region Thursday had people outside enjoying a day that felt more like summer than mid-winter.
FOX 5's Jacqueline Matter visited Gaithersburg where the first 80 degree day of the year meant people were out and about enjoying the temperatures in places like the Rio Lakefront where there's plenty to do while soaking up the sun.
"A lot of strollers, a lot of pets," said Stacey Hammer, co-owner of Locally Crafted, a small business in the shopping plaza.
"Warmer weather means more guests enjoying the patio," added Christopher Settimo, general manager of True Food Kitchen Gaithersburg.
With spring less than a month away, those in the DMV got a taste of what's to come.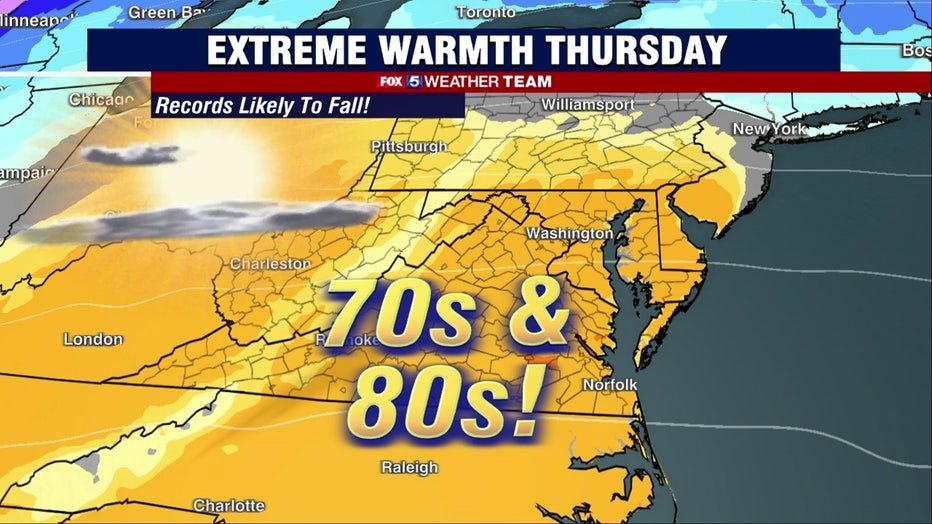 But for many it felt more like, "I think it's summer," said Benjamin Sakala.
"This is like California weather," Liz Katz said.
FOX 5's weather team tracking temperatures that reached a record-breaking 81 degrees, which broke a 149-year-old record.
The weather a major factor for shops and restaurants along the Rio Lakefront in Gaithersburg.
"We're definitely seeing an uptick in business and I think the weather's helping because Rio is such a weather dependent shopping center," said Hammer.
"People like to go out when the weather's nice and stay home when it's not so I think it's definitely benefitted us."
"We're expecting quite a big push. The patio's full, it has been full about the past hour. Lunch was booming," said Settimo.
"At least 90 percent of all of our guests today are outside."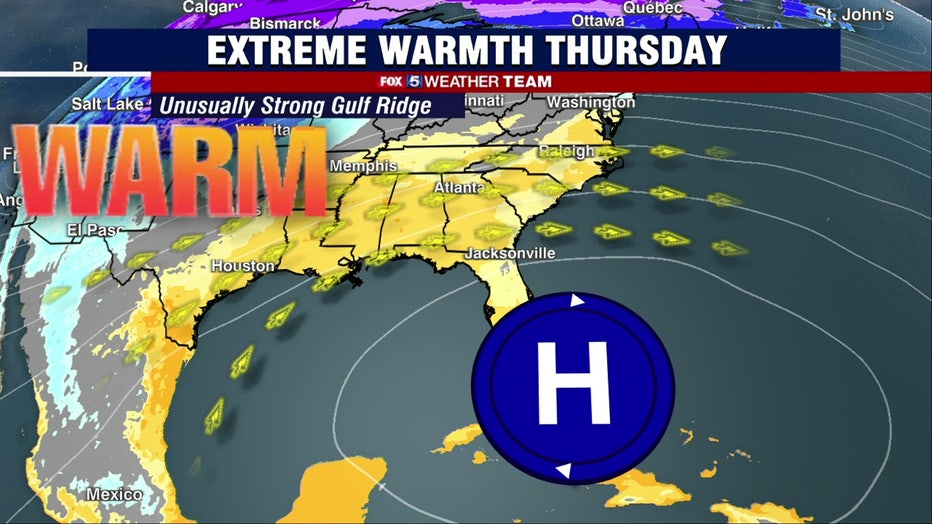 But those temperatures will be short lived and before we go back to reality people were out enjoying the surprisingly pleasant temperatures.
"This is amazing. It has to be the weather because this place is full of life right now," said Rick Banks.
"I thought in school it was hot that I could have my jacket open and I didn't really need it," added Kosta Jovanovic.
"We were just taking advantage of the weather we don't get the good weather like this often so we decided to come out, take a stroll and eat some ice cream," said Varina Sakala.
"We're going for a walk, take advantage of the nice beautiful weather today. In two days, it's going to get cold again, got to take advantage of it, said Rick Hernandez & Liz Katz.
Fittingly enough, the winter décor is still up at the Rio so with the possibility of some snowflakes on Saturday for parts of the region you can also still get in the mood here, just bundle up a bit!