Goose with arrow piercing neck captured in California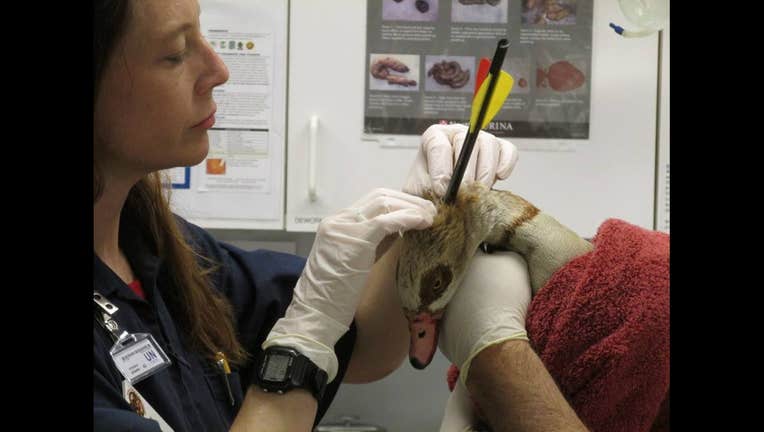 article
ANAHEIM HILLS, Calif. (AP) — An Egyptian goose with an arrow piercing its neck was captured in Southern California on Wednesday and will undergo surgery to remove the weapon.
A worker at the Anaheim Hills Car Wash befriended the goose several days ago and was able to catch it and turn it over to officers from Orange County Animal Care, department spokeswoman Katie Ingram said.
Veterinarians at an area bird and wildlife clinic examined the bird and said it appeared to be in good health, except for the arrow that missed all its vital organs, Ingram said. They said the bird's prognosis was good.
Workers believe the animal was shot intentionally at least a week ago, Ingram said. Animal control officers found the bird after getting a call on April 8 from Hole 5 at the Anaheim Hills Golf Course, but they started getting calls on April 5, she said.
The birds are not native to the area, so it was probably living near the course.
The unnamed bird was unable to bend down to eat, making it easier for the car wash worker to entice it with food.
When animal control arrived Wednesday to pick it up, they did not wear uniform clothing in case that was what was scaring the bird, Ingram said. They were concerned the arrow was catching on objects as the bird moved and would cause an infection or move the arrow and cause serious damage.
Copyright 2015 The Associated Press. All rights reserved. This material may not be published, broadcast, rewritten or redistributed.