Gay marriage ruling both celebrated, denounced in Va.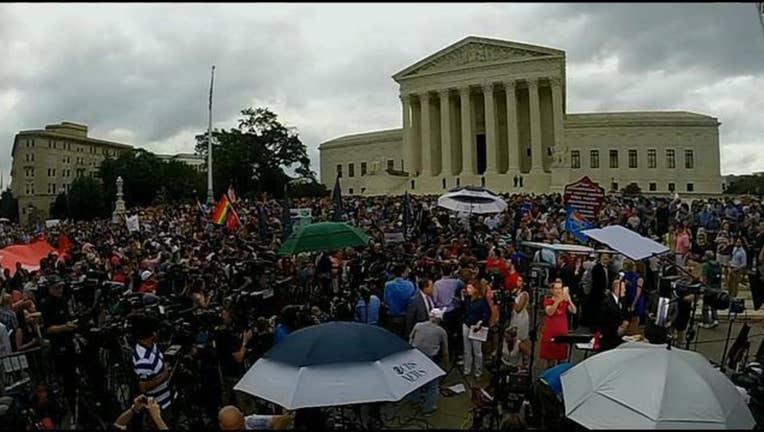 RICHMOND, Va. (AP) -- The U.S. Supreme Court's ruling Friday that same-sex couples have a right to marry was both celebrated and denounced in Virginia, where such marriages began more than eight months ago.

Virginians approved a constitutional amendment prohibiting gay marriage in 2006, but a federal judge in Norfolk last year declared the measure unconstitutional. A federal appeals court reached the same conclusion last July, and circuit court clerks began issuing marriage licenses to same-sex couples in October.

Although Virginia was not one of the 14 states directly affected by the Supreme Court ruling, elected officials and advocates on both sides of the issue were quick to react.

------

"The one thing I thought as soon as I heard the news is that all those people in all those states who were denied the right to marry are now fully recognized, and I think that's an amazing thing," said Timothy Bostic of Norfolk, the lead plaintiff in the lawsuit that erased Virginia's same-sex marriage ban last year.

Bostic and Tony London, another plaintiff, were married May 2. Bostic said the community has embraced them as a married couple, and he believes the Supreme Court ruling will promote broader acceptance of gays and lesbians in general.

"When people are recognized fully as citizens, attitudes start to change," Bostic said.

------

Some critics of the ruling said they worry about whether it will undermine the rights of people who oppose same-sex marriage for religious reasons.

For example, can a baker who sells wedding cakes be forced to make one for a gay couple?

"Now that same-sex unions have been forced on our country, will there be tolerance for those whose faith teaches that marriage is the union of a man and a woman?" said Victoria Cobb, president of the conservative Family Foundation of Virginia.

Republican House Speaker William J. Howell, who said he was disappointed by the ruling, voiced the same concern.

"While we must and will abide by the law, we must also ensure that the God-given and constitutionally-guaranteed right to the free exercise of religion is not diminished in light of this ruling," Howell said.

Howell said that while no immediate action is necessary in Virginia, he was sending a letter Friday to the Virginia Code Commission asking it to evaluate whether any state laws need to be changed to fully comply.

------

The American Civil Liberties Union said that while gay and lesbian Virginians can marry, they still lack protection in other areas of the law, including employment and housing.

"We celebrate this historic decision, but we do so with our eyes wide open about how far we still have to go," said Claire Guthrie Gastanaga, executive director of the ACLU of Virginia.

The civil liberties group represented two same-sex couples who were involved in the legal challenge in Virginia.

--------

Democratic Virginia Attorney General Mark Herring not only refused to defend Virginia's gay marriage ban, but joined the plaintiffs in arguing that it was unconstitutional.

"Thousands of newly married Virginians and their families now know their bonds are protected by the highest law of the land, sending a powerful message about what a loving family can look like in the 21st century," Herring said.

Gov. Terry McAuliffe also lauded the ruling.

"I believe Virginia must be open and welcoming to everyone, and there is no room in our commonwealth for putting up walls that separate individuals from that right based on whom they love," the Democrat said.
© 2015 The Associated Press. All rights reserved. This material may not be published, broadcast, rewritten or redistributed.