Gaithersburg woman confesses to stabbing, killing boyfriend just days before his 21st birthday
MONTGOMERY COUNTY, Md. - A Gaithersburg woman has been charged with stabbing and killing her boyfriend just days before his 21st birthday, police say. 
Detectives from the Montgomery County Police Department say around 5:50 a.m. on Sept. 10, they were called to Adventist HealthCare Shady Grove Medical Center in the 9900 block of Medical Center Drive in Rockville where someone had brought in a man who had been stabbed. 
Hospital staff told police that a woman driving a blue Honda sedan walked into the lobby and said that her boyfriend had been stabbed. They took him out of the back seat of the Honda but said it appeared that he was already dead. He was identified as 20-year-old Jose Manuel Zavala Marques. 
Police determined that the woman who brought Zavala Marques to the hospital was his girlfriend, 21-year-old Jennifer Abigail Espinoza Orellana.
Detectives began questioning Espinoza Orellana, who initially told them that her sister got a text from Zavala Marques saying he had been stabbed and needed someone to come get him. Espinoza Orellana said she drove out to the area of Apple Ridge Road and Watkins Mill Road in Montgomery County where she found Zavala Marques with a single stab wound. She claimed that she got him into her car from there and immediately drove him to the hospital. 
At the hospital, staff say Espinoza Orellana told them that she believed Zavala Marques was a drug addict and suicidal. She then said she needed to let Zavala Marques' family know what had happened and as she was leaving, the staff noticed another woman get into the car with Espinoza Orellana. 
After hearing her story, police decided to set up surveillance on Espinoza Orellana and followed her back to her house in the 8200 block of Shady Spring Drive. She got to her house around 8:15 a.m., went inside and came back out about five minutes later wearing different clothes. 
She got back to the hospital at approximately 8:30 a.m. in a different car where she was met by detectives. When asked why she had decided to drive a different car, Espinoza Orellana told police that her blue Honda had been rear-ended while she was leaving the hospital earlier that morning.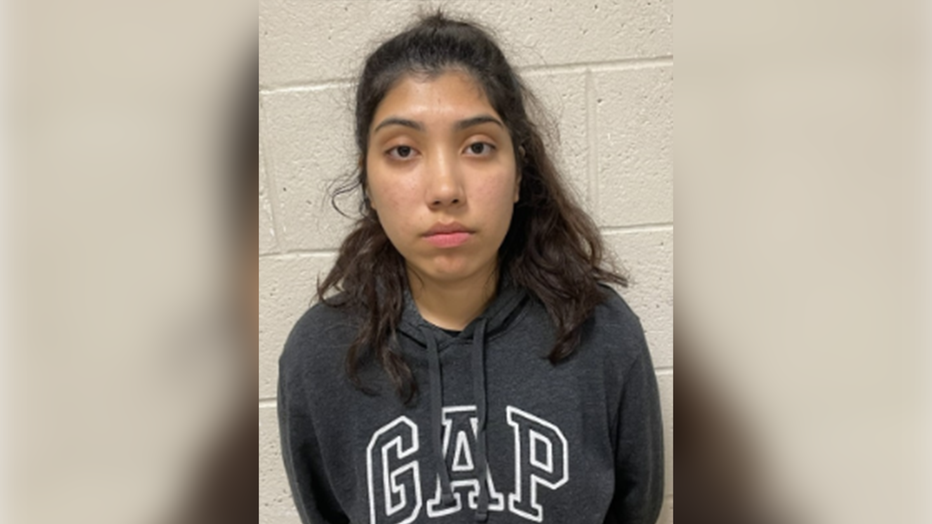 During further questioning, Espinoza Orellana offered to take detectives to the location where she claimed to have found Zavala Marques and drove them out to Apple Ridge Drive. They then asked Espinoza Orellana if they could have the clothes she had been wearing at the hospital earlier that morning and she agreed. 
On the drive back to her house, Espinoza Orellana admitted that she lied about where she found her boyfriend's body, saying it was closer to her home and she indicated that she may have been the one to stab him. She also told them that she made up the story about being rear-ended and said she never received a text from her sister — as she doesn't even have one.
After this admission, police brought her to the station for a formal interview and got the full story. 
Espinoza Orellana told them that her friend Kaitlin had been with her and Zavala Marques drinking when the couple got into a fight. 
Zavala Marques allegedly grabbed a knife and threatened to kill himself if Espinoza Orellana broke up with him. She says he then cut one of his hands using the knife and left Espinoza Orellana's home with the weapon. 
She said she chased Zavala Marques into a nearby field where she claims he began choking her and at some point, she grabbed the knife and stabbed him in the chest. 
Espinoza Orellana said once she realized he was dead, she called Kaitlin and together, they put his body into the back seat of the Honda and drove to the hospital. Kaitlin got out of the car before they reached to ER so she wouldn't be seen by staff.  She also said she took Zavala Marques' phone after the stabbing and later put the murder weapon into a backpack in her car. 
Following this interview, Espinoza Orellana was arrested and taken to the Montgomery County Central Processing Unit where she was charged with second-degree murder. She is being held without bond.
Zavala Marquez was transported to the Office of the Chief Medical Examiner in Baltimore where an autopsy will be conducted to officially determine the cause and manner of death.