Gaithersburg wireless store employee describes distraction tactic thieves used to swipe $24K in cellphones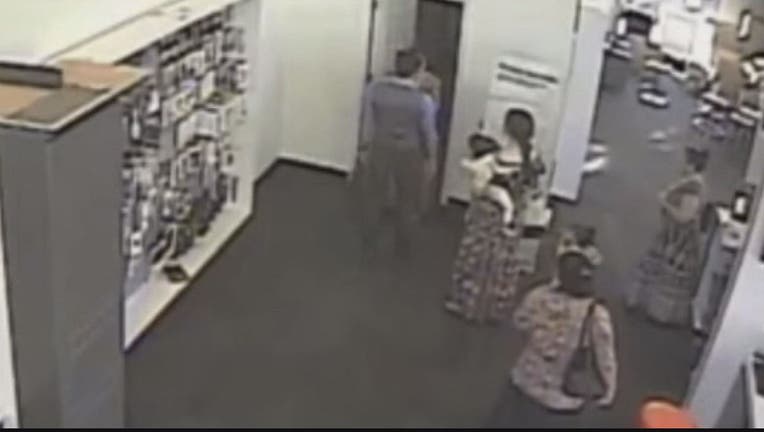 article
GAITHERSBURG, Md. - Only on FOX 5 DC — A Maryland wireless store employee shares bizarre details about his encounter with six women who police say stole $24,000 worth of cell phones.
Montgomery County police are calling it a distraction theft and it was all caught on video.
FOX 5's Tisha Lewis reports the employee who works at the wireless store says the women were asking weird questions, wearing fake bellies and continually distracting him.
He says he was at the store with his manager.
"They were distracting us in pairs and there was a group of them, they seemed like they didn't know what they were talking about, they were clueless... we thought they were pregnant and we were trying to be cool with them," said Tony Abas who works at the store in Gaithersburg.
The store is not owned or operated by Verizon, it is owned by Your Wireless. 
Abas was the employee working the floor when this incident happened on July 18 around 6:30 p.m.
The surveillance video shows what he's talking about — six women making off with at least two dozen cell phones from this Gaithersburg Verizon store in what police are calling  a distraction theft.
The women were wearing baggy clothing walking around the store, distracting the employee and a manager while one snuck in a back room.
We're told the suspects were between 18 and 30 years old.
"We would just recommend that stores be aware of this distraction theft scheme... of a theft," said Officer Rick Goodale.
FOX 5's Tisha Lewis reports at one point the women surrounded the employee FOX 5 interviewed while one of the suspects escaped with the cell phones.
The women got away in a minivan.