Frederick County Sheriff's Office equips deputies with body cams
FREDERICK COUNTY, Md. - Deputies in the Frederick County Sheriff's Office will now be equipped with body cameras. 
The sheriff's office made the uniform requirement official Monday after a 12-month trial period was initiated to determine which camera system worked best for the agency. 
READ MORE: Routine traffic stops leading to illegal gun arrests in Frederick County
"We will use Axon body cameras for our deputies and will be phasing them into the more than 180 sworn officers within the next 60 days," said FCSO Sergeant Richard Balsley, Body Camera coordinator. "Our goal is to have everyone wearing and using these by no later than April 1."
​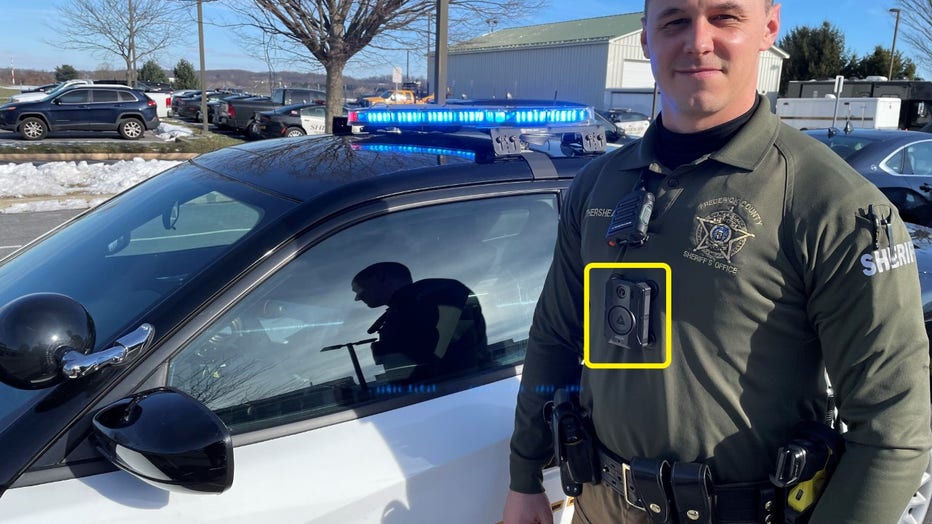 "The rollout of the FCSO body-worn camera program, starting today, will get body cameras on the street well ahead of the mandated program start date of July 1, 2025," added FCSO Sheriff Chuck Jenkins. "We have done our due diligence through the year-long pilot program to make sure we made the right decision in the selection of a reliable product vendor in Axon, which has allowed us to put together a very solid policy regarding the use of the body cameras. "Deputies have been looking forward to the implementation of the body cameras, as the value of the cameras became increasingly apparent during the course of the pilot program." 
READ MORE: Burglars targeting farms in Frederick County
In 2021, the Maryland General Assembly mandated that all police officers be required to wear body-worn cameras by 2025.