FBI searching for serial bank robber called the 'Furry Mask Bandit'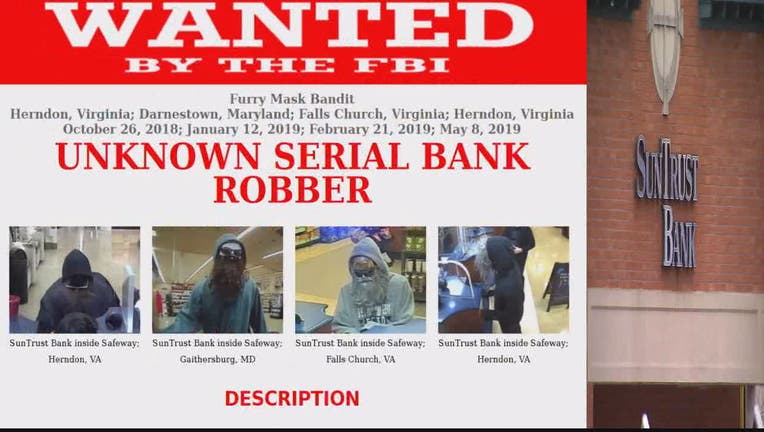 article
WASHINGTON (FOX 5 DC) - The FBI is on the lookout for a serial bank robber they call "The Furry Mask Bandit" because the unknown suspect has worn furry masks or wigs in four separate incidents in Maryland and Northern Virginia.
Each robbery follows a similar pattern, according to investigators, who said the suspect has walked into Safeway grocery stores and approached tellers at SunTrust Banks located inside. He's then passed them notes demanding money, asking for mostly $100 bills.
"With these serial bank robberies, you know, there's always the potential for escalation and we don't want anyone to get hurt by this individual," said Robert Bornstein, the assistant special agent in charge of the FBI's Washington Field Office.
The robberies have occurred at Safeway stores in Gaithersburg, Herndon, and Falls Church. Bornstein said the suspect has gotten away with less than $30,000 total.
 
The FBI is offering an award of up to $5,000 for information leading to "The Furry Mask Bandit." You can contact the Washington Field Office at 202-278-2000 or submit a tip at https://tips.fbi.gov.