Fairfax County police crack down on organized retail theft: Multiple NYC rings busted in a week
TYSONS, Va. - Fairfax County Police Department's Tysons Urban Team has been busy.
Three different organized retail theft groups have been busted within the past week. 
The thieves have all been caught targeting Tysons Corner Center, and are linked to over $40,000 in stolen merchandise. 
On Thursday, the department told FOX 5 that eight New Yorkers have been arrested since Sept. 14. They also went into detail on how the Tysons Urban Team operates. 
"We have groups that will travel up and down the 95 Corridor mostly, and they'll stop along the way, stealing from different locations on that route. And the Tysons area is one of the locations that sticks out along that route," explained Lieutenant Will Arnest. "Three in a week is a lot, but there's nothing to think that it's more than just happenstance there's been three this week.
The lieutenant believes that since New York City is known as one of the largest markets for stolen goods that may be the NYC connection here.
He also told FOX 5 that the Tysons Urban Team, or TUT, is seeing its highest number of thefts in some five years. TUT alone is on track to make over 1,000 arrests after tracking down 855 suspects in 2022.
On Sept. 14, TUT officers made their first arrest: 28-year-old Jamine Decambra of Brooklyn, 33-year-old Darnel Eric Davis of Astoria, and 37-year-old Marcia Jenelle Lewis of Jamaica, New York. Decambra and Davis tried to make a $21,000 purchase at a Louis Vuitton store with a stolen credit card, and police later found 36 fake driver's licenses, 32 stolen credit cards, a postal service uniform, and a mail key that police suspect was being used to steal the credit cards from the mail.
On the 18th, the police department received a call from a Sephora employee who reported people stealing from the store. Police later connected two suspects to a rental car with over $8,000 worth of goods stolen from Tysons inside. The two New Yorkers were also connected to the theft of another $16,000 in merchandise in the area.
And then on the 19th, three people were arrested after a Sunglass Hut employee noticed a theft. Detectives there later discovered around $15,000 worth of merchandise stolen from several other Tysons Corner Center stores.
FOX 5 spoke with one woman on her way to Tysons for the first time ever. She believes that these types of crimes are a symptom of society, and things like social media glorifying instant wealth.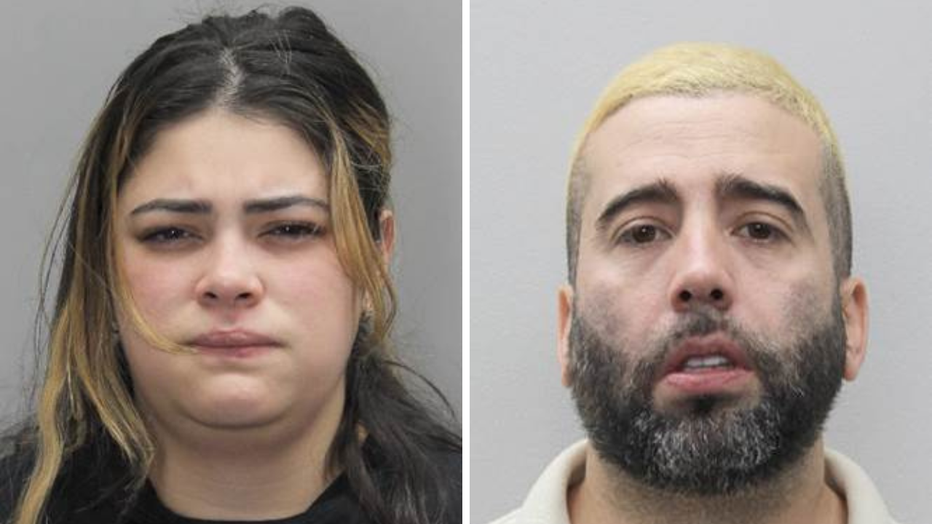 From L to R: Juliana Euse Sanchez 25, of Queens, New York, Randolph Ardilla 38, 0f Queens, New York. Ardilla and Sanchez were arrested by Fairfax County Police Department's Tysons Urban Team on Sept. 18. 
"People that make you believe you can stay at home and just show yourself and you can make money," said Flor Cottonant. "They should be punished for what they're doing. They should be prevented. But they should also be understood. They're part of the system. The system has it that you – the system makes you believe you can make instant money so if they have no other solution, they will try to make instant money that way. It doesn't make them all bad people, but it does have very bad consequences."
Fairfax County Police Department says that a third of their cases are younger people stealing. The older adults are usually working in groups.
The goods stolen are usually seasonal such as expensive winter coats and jeans taken more in the winter and items like sunglasses and fragrances stolen more during the warm months.