Fairfax County animal protection police call results in 65-pound snapping turtle encounter
FAIRFAX COUNTY, Va. (FOX 5 DC) - Fairfax County's Animal Protection Police unit was in for a surprise during a recent call.
Animal control officers responded to a neighborhood in Hayfield and were confronted by a 65-pound alligator snapping turtle.
Because the breed is not native to Virginia, state wildlife officials say they believe the turtle was an unwanted pet.
Download the FOX 5 DC News App for Local Breaking News and Weather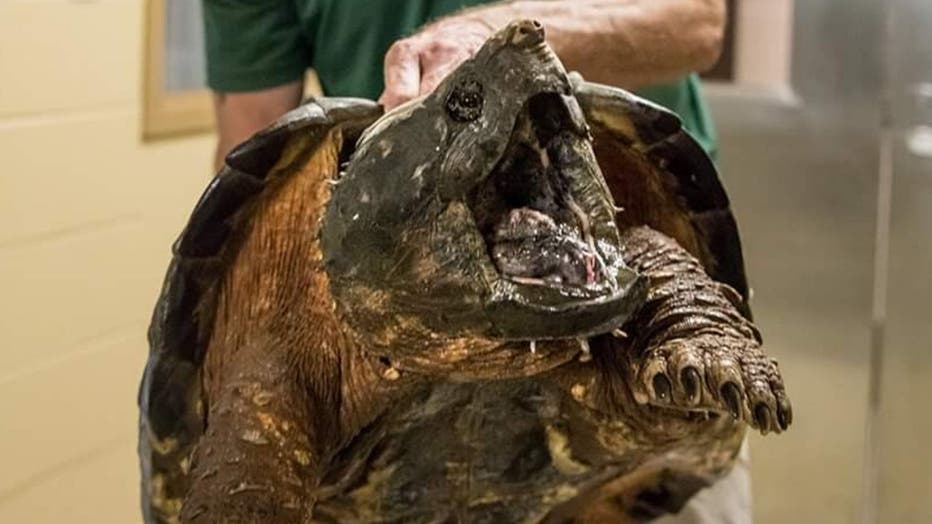 Courtesy of the Virginia Department of Game and Inland Fisheries
RELATED: Mama bear and cub cool down in kiddie pool in Virginia neighborhood: 'That's the baby bear'
John Kleopfer, a herpetologist with the Virginia Department of Game & Inland Fisheries, says it's common for people to buy pet turtles not understanding the commitment involved. 
"Then they just take them down to the local pond or park and they dump them," said Kleopfer. "We've seen this repeatedly over and over again."
This type of turtle is a lot to handle.
"That alligator snapper could easily live 60-70 years," said Kleopfer.
RELATED: Bear seen in Manassas, latest sighting in northern Virginia, captured on video
He said while the young turtle found was 65 pounds, he could end up weighing as much as 200 pounds.
Despite a scary looking face and large mouth, Kleopfer said the turtle wasn't likely to hurt anyone. The bigger concern is that he wouldn't survive the cold winter, starve, or cause a car accident.
Wildlife officials named the turtle Lord Fairfax. Because he had been a pet, they say he wouldn't fare well in the wild. He was taken to the Virginia  Zoo In Norfolk to live out his days.