Demand for charging stations rises across DMV as more EVs hit the road
WASHINGTON - The United Auto Workers strike entered its fifth day Wednesday. Negotiations between the union and automakers continue but no deal has been reached yet. 
One of the key disputes is the future of labor with electric cars.
If you've driven around the DMV, you've probably noticed the many electric vehicle charging stations.
John Paul Helveston is a professor at George Washington University who studies all things EV. He says it's still incredibly early and things are just getting started.
"It's going to be gradual, it's not going to be an overnight thing and I think that's still the thing that, no matter what your perspective, that's the ground reality. It's not going to go as fast as some hope and for folks who don't want this transition, it seems inevitable. It's going to happen. But it's going to take a long time," Helveston said.
S&P Global Mobility is a forecaster who thinks electric car sales could surpass 50% of all auto sales around 2030.
Helveston says we will start seeing more and more charging stations are places we go and spend some time; parking at offices, malls and grocery stores.
Mike Martinez is a Tesla owner.  He's had his car for about a month. He's retired but now makes money as a rideshare driver. His old Honda Accord had 380,000 miles and would have taken $5,000 to make the necessary fixes to pass inspection.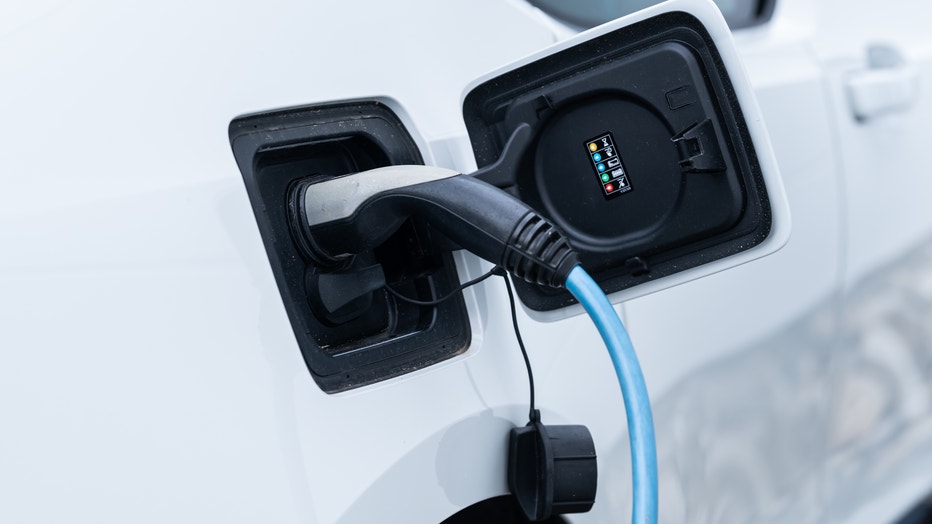 An i3 electric car from the car manufacturer BMW is charged at a charging station at a car dealership. (Photo by Silas Stein/picture alliance via Getty Images)
For him, the economics were such that he got a Maryland and Federal Credit and thought it made sense for him to go electric.
He doesn't mind the sit and wait required to charge and knows there's so-called range anxiety out there. It's an apprehension he had but no longer does.
"I was concerned about the long trips but I've made a trip up to NY and with one charge, it got me just south of Jersey — south of Manhattan — on one charge. And what's nice about it is that it alerts you, 'hey, you've got 60 miles left, which one of these chargers do you want to go to?' And it gives you a choice: how much it's going to cost you, how long it's going to take you to take you to charge the car," Martinez said.
Some non-electric vehicle drivers who spoke with FOX 5 also said it's too early, they either want to see the cost go down or the infrastructure go up.
"I'm not opposed to having an electric car. It's certainly something I would definitely look into more to getting. It just hasn't been pressing for me where I definitely need to get one of these," said Laura Richardson.
This week, Royal Farms Convenience Stores announced a partnership with Blink, an EV charging company.
In a sign of the industry's growth, Blink's Automotive Business Development head says the company is growing and the demand is high.
"Blink has expanded from nearly 50 employees to over 700 in the last five years, and we're deploying chargers as fast as we possibly can. We sell tens of thousands, we also own and operate thousands of our own chargers," said Jeremy Watrous.