DC police shut down scene after protesters try to haul down Andrew Jackson statue
WASHINGTON - Despite a significant D.C. police presence, protesters tried to haul down an Andrew Jackson statue in Lafayette Park Monday evening.
Nearby, protesters had spraypainted "BHAZ" on historic St. John's Church's columns - saying it referred to a "Black Autonomous Zone."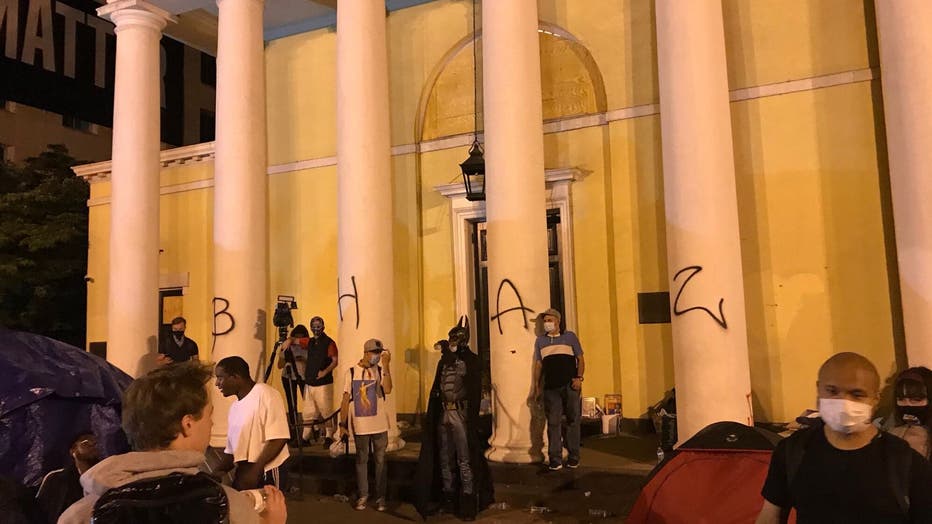 DOWNLOAD: The FOX 5 DC News app for local breaking news
Shortly after they established a presence, police were able to shut down the area, and close it off to protesters.
U.S. Park and D.C. police reportedly used a chemical irritant to disperse the crowd and officers were hit with objects. 
According to Fox News, the U.S. Secret Service asked reporters to leave the White House grounds nearby. The specific reason wasn't clear.
The scene has become common in the DMV and around the country, as protesters work to destroy racist relics of the nation's past.
Friday night, protesters tore down and burned an Albert Pike statues in Northwest D.C.
RELATED: Protesters topple, burn Confederate Albert Pike statue in DC
On Monday afternoon, four police officers were reportedly injured in a skirmish in the Black Lives Matter Plaza area.
Monday night, the President Tweeted about the protesters, threatening them with 10 years in jail.
RELATED: DC police say 4 officers injured in confrontation with protesters in Black Lives Matter Plaza area