DC Police Chief Robert Contee III retiring
WASHINGTON - D.C. Police Chief Robert Contee III is retiring, according to Mayor Muriel Bowser who chose him to lead the force almost two years ago. 
The mayor revealed the chief's departure in a statement Wednesday afternoon and Contee III followed up with an official announcement via YouTube.
"I have decided that after serving this agency for over 30 years that it is time for me to retire from the Metropolitan Police Department," Contee said. "I will tell you that it has been my greatest honor to serve as chief of police since January 2 of 2021."
"Director Christopher Wray of the FBI has appointed me as assistant director of the FBI and I will be moving on to a new opportunity that I am very excited about," Contee continued. "In this new opportunity, I will have the privilege of working with law enforcement agencies all across our nation as assistant director of the office of partner engagement."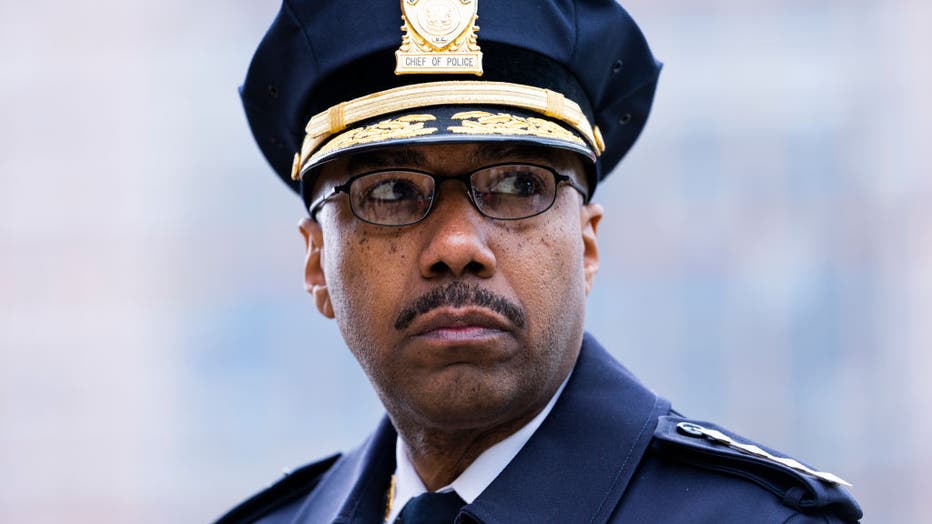 UNITED STATES - NOVEMBER 29: Metropolitan Police Department Chief Robert Contee conducts a news conference to announce new traffic safety enhancements around schools at Van Ness Elementary School in the Navy Yard neighborhood of Washington, D.C., on
The D.C. native began his career with the Metropolitan Police Department as a cadet in 1989.
Mayor Bowser announced that she selected the veteran to lead the department on December 22, 2020. He was sworn in as acting chief of police on January 2, 2021, and was officially confirmed chief of the Metropolitan Police Department four months later.
Mayor Bowser released the following statement confirming Contee's retirement Wednesday afternoon. 
"Chief Contee was sworn in four days before January 6, 2021. Since his first week on the job, and over the past 33 years, he has been making Washington, DC incredibly proud. He's a son of DC who grew up in Carver Langston, joined the Metropolitan Police Department as a cadet at 17 years old, and now he's ready for his next chapter. On behalf of our city, I want to congratulate Chief Contee on his retirement and thank him for his service to DC — for leading MPD with passion and purpose. He has pushed our criminal justice system to do more and be better. He has led MPD through an incredibly challenging time for our country – from the pandemic to January 6th and navigating the effects of a shrinking department during a time when gun violence is exploding across the nation. He has been a phenomenal ambassador of what it means to be a police officer in DC – brilliant, compassionate, and determined to build a DC where all people feel safe and are safe.
"We know that the Chief has a motto: Excellence is transferable. And we know he will leave behind a team of leaders and officers ready to continue serving DC at the highest levels."
DC Council Chairman Phil Mendelson said he was "shocked" to hear about Contee's resignation. 
"I am sorry to see him leave after more than three decades of service to the District. I wish him well in his next endeavors," Mendelson said in a statement. "The Council stands ready to work with Mayor Bowser to find the best candidate to succeed Chief Contee. I am hopeful that the Mayor will take this opportunity to find a leader who is willing to try new approaches to law enforcement and new strategies to fight violent crime."
Contee III said his last day is June 3. 
Watch Chief Contee's official retirement announcement video below: