Chipotle adds new spicy menu item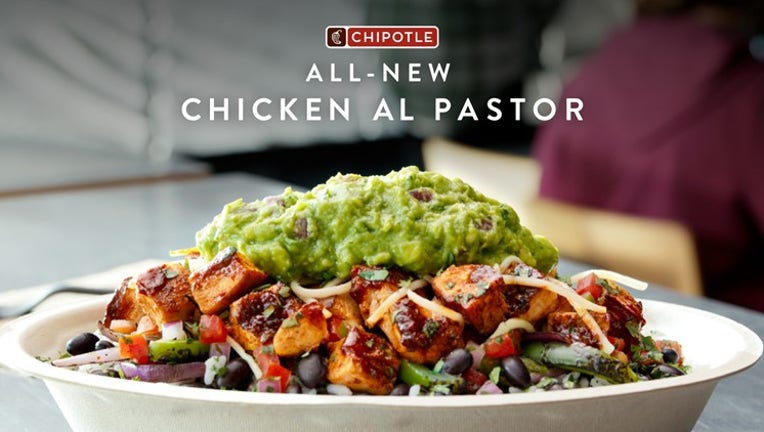 article
LOS ANGELES - Chipotle wants to add some spice to your life (or lunch, at least). 
The chain announced Tuesday that you can now get Chicken al Pastor as a new protein option to stuff in your burritos, bowls, salads, and quesadillas - for a limited time only.
"Guests are looking to restaurants for unique menu items they cannot make at home, and al pastor has been gaining mass appeal in recent years," said Chipotle's chief marketing officer Chris Brandt. "We've put our own spicy spin on al pastor with our freshly grilled chicken and have created a truly delicious menu item that fans will crave. It's where fire meets flavor."
Chipotle described the new item as "grilled, marinated chicken –seasoned in adobo with morita peppers, ground achiote and a bit of pineapple – finished with lime and cilantro."
SUGGESTED:
The new protein was tested in nearly a hundred restaurants in Denver and Indianapolis last year before making its debut worldwide Tuesday. 
Chipotle said it's the first time it has made a new menu item available across its 3,200 restaurants in the U.S., Canada, U.K., France and Germany.
To celebrate, from March 16-26, Chipotle is offering free delivery on all Chicken al Pastor orders in the U.S. made through the Chipotle app and on Chipotle.com.