Capitol pipe bombs were likely planted the day before, FBI says; reward increased to $100K
WASHINGTON (FOX 5 DC) - The Federal Bureau of Investigation says the suspect who planted pipe bombs at the Republican National Committee's and Democratic National Committee's headquarters this month likely placed them the night before the Capitol riot in D.C.
READ MORE: FBI warns pipe bomb suspect still at large after Capitol riot
The FBI is intensifying their search for the man, who was hooded and masked in every surveillance image he's seen in.
On Friday, they raised the reward they're offering for information leading to his arrest and conviction to $100,000.
The bombs were located around the same time that a mob leaving a Trump rally in Freedom Plaza marched to the Capitol.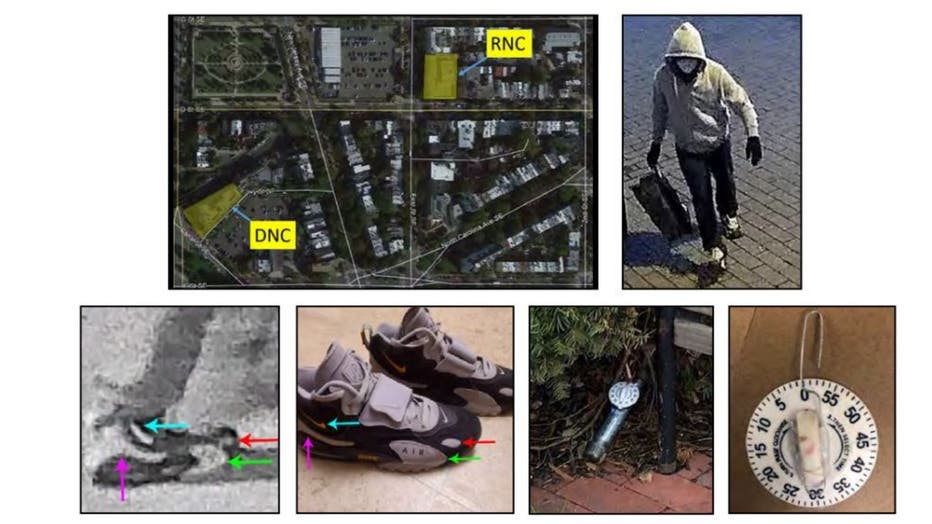 READ MORE: 2 National Guard members removed from DC mission over militia ties
FOX 5's Natalie Rubino spoke to a former Secret Service agent Friday who says it's unnerving that they sat there for so long unnoticed.
"The potential for tragedy in this situation with these two bombs set out in public spaces, we're just all fortunate as a society that they didn't detonate," said Jeff James.
Several clips show the man in different parts of the neighborhood. James says this needs to serve as a warning for when you see something say something.
"It's so incredibly important when you see something like this to make sure that you're finding somebody to tell," said James. "I think if people had seen these bags in front of these offices or near these offices, or if they had seen someone drop a bag and intentionally walked away from it, that could've shortened the timeline that we've seen."
The protesters quickly overwhelmed Capitol police and overran the building after Congress had convened to certify the Electoral College vote.
Five people died during the incident – including one Capitol police officer.
Download the FOX 5 DC News App for Local Breaking News and Weather
The man in the surveillance images is wearing a mask, a gray hoodie, black gloves, and black and white shoes.
If you have information that can help investigators, call 1-800-CALL-FBI.