Capital Crescent Surface Trail named one of the best new bike lanes in U.S.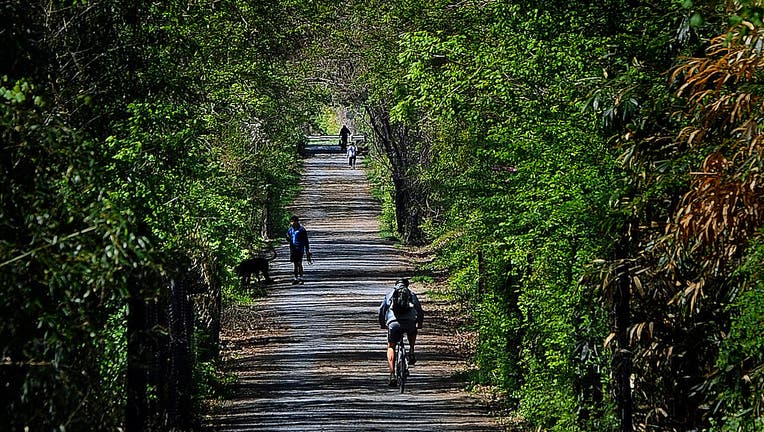 article
BETHESDA, Md. - Maryland's Capital Crescent Trail project has been named one of the best new bike lanes in the U.S. 
A redesign of the trail aims to make it safer while connecting commuters across Montgomery County.
If you've been to downtown Bethesda recently you've likely seen the new bright green bike paths, increased traffic signals, and crosswalk markings.
It's a major improvement to the decades-old Capital Crescent Trail that stretches 11 miles from Georgetown to Silver Spring.
Because of that, it's earned a top spot for pedestrians and cyclists.
People for Bikes ranked the project as the second-best new U.S. bike lane of 2022!
"We had no idea we were up for it," said Tim Cupples, deputy director for Transportation Policy with the Montgomery County Department of Transportation. "To see it recognized by a national organization, especially with some of the peers that we were put in with, that was really gratifying."
READ MORE: No prison time for Maryland Capital Crescent Trail attacker
The redesign started in late 2019 as part of a larger effort to modernize existing infrastructure into a safer and more convenient way to get around.
"Create a loop, a kind of network around, you know, the Bethesda core that will provide a safe way for residents to get from some of the neighborhoods into the urban core," Cupples said. 
A major component of the project includes the Vision Zero Initiative, which looks to end serious and fatal crashes on roads by 2030.
"One of the key features of this particular project is a protected intersection that has been designed to slow vehicles down. It's safer for pedestrians and cyclists," Cupples explained.
Riders on the trail seem to approve.
"I remember when it had this tunnel but this redesign is really nice. It integrates nicely with the traffic," said Lucas Housted. 
READ MORE: Antisemitic graffiti found on Capital Crescent Trail
"It's safe, and it's well maintained, and it gets me where I want to go," Gail Hoelscher said.
"I take the trail every day. Sometimes I walk it, sometimes I bike it. I can't complain it's one of the best ways to get to work and back," added Amina Devries.
With a price tag of around $1.2 million, the portion of the project in downtown Bethesda was finished in November 2022.
But there's still much more to go, including the addition of the Purple Line.
"70% of the patrons are anticipated to walk or bike to the Purple Line," said Cupples. "So it needs to be safe for people to bike and walk to Metro to the Purple Line to ride on."
Once it's all said and done the improvements to other parts of the trail will cost $12 million overall.
The completion of the project is contingent on the Purple Line's construction, which is expected to be finished by 2027.