Bugs back already? Expert says unusually warm weather is to blame
BETHESDA, Md - Even though it's still early March, bugs are back.
"I was surprised to see them out just like walking the dog so early in the season," Arun Manoharan said Tuesday in Bethesda.
The University of Maryland's "bug guy," Entomology Professor Emeritus Michael Raupp, said the unusually warm weather in January and February is the reason why. It's led to early sightings of all kinds of insects, including bees, stink bugs, and yes — ticks too.
"The warmer it is, the faster bugs develop," Raupp explained. "So, as the temperatures increase this time of year, they're simply developing quicker. They're also becoming more active."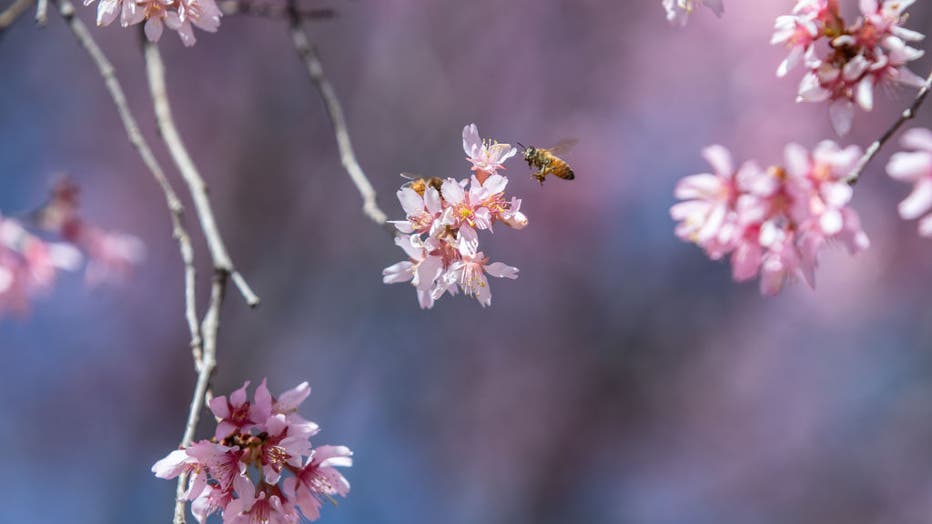 A bee flies towards a cherry blossom at the Congressional Cemetery during unseasonably warm weather in Washington, DC, US, on Wednesday, Feb. 23, 2023. Pushed along by climate change and forces across the Pacific Ocean, spring has arrived weeks early
Raupp also said that because of a changing climate he expects to see more of this in the future – and we're also likely to see some insects we haven't had in D.C., Maryland, and Virginia before.
"These southern insects are now extending their range further north and reaching places like Maryland," Raupp said.
READ MORE: Maryland expands spotted lanternfly quarantine to control spread of invasive species
Among people FOX 5 spoke with Tuesday evening, reactions were mixed.
"I just don't like bugs," laughed Alissa Ty.
"Bugs are gonna do what they're gonna do," said Max Ehrmann.
As for mosquitos, Raupp said it's possible they also come earlier than usual this year, although he added, they aren't here yet.