Bradley Beal 'frustrated' after Wizards miss playoffs again
WASHINGTON - After a few questions about his future in Washington, Bradley Beal joked that the reporters in the room were trying to push him out.
"If I wanted to leave, you guys would definitely hear and know that Beal wants to leave," he said.
Since Beal hasn't said anything to that effect, it appears he's ready to stay the course in Washington — and the Wizards sound prepared to try to keep their trio of Beal, Kristaps Porzingis and Kyle Kuzma together. That's after a season in which Washington went 35-47 and missed the playoffs.
General manager Tommy Sheppard acknowledged what a disappointment the season was Monday, when he and several players met with reporters.
"I think Vegas preseason said we were going to win 35 games, we won 35 games. That's disgusting to me," Sheppard said. "I think internally we had much higher goals, but you can't argue with your record. It is what it is. We've got to get better."
Beal signed a max-value contract last offseason to stay with the Wizards, and while there was a feel-good element to that — he's played his whole career in Washington — it was an intriguing move for both sides. Beal was choosing to stay with a team that hasn't been a real title contender since before he was born, and it wasn't clear if keeping him would be enough for the Wizards to challenge the top teams in the Eastern Conference.
This season, they didn't even make the play-in round.
"I'm definitely frustrated," Beal said. "I'm also at peace with where I am and who we are and what we need to do to be better. There's nothing I can do. I can't control it, and I'm not going to sit here and cuss everybody out. We know where we failed and how we got to get better. We have to do so."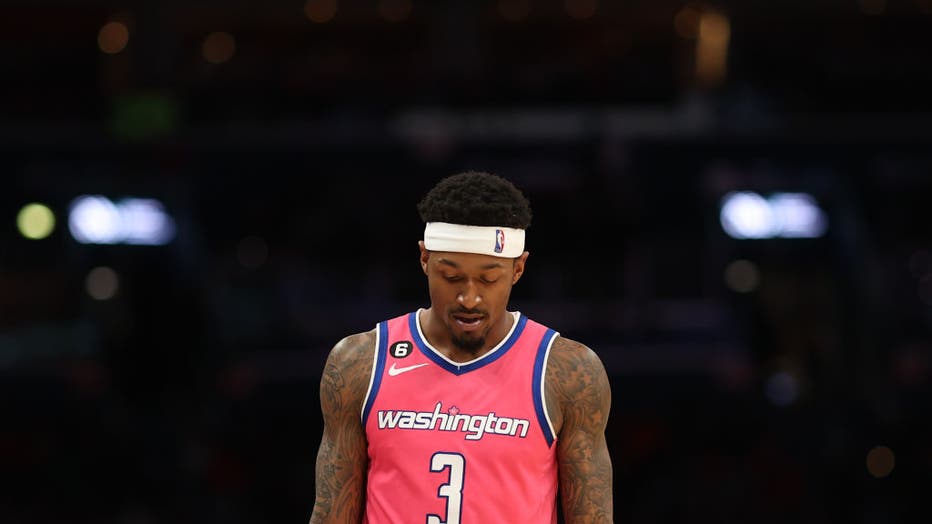 WASHINGTON, DC - MARCH 02: Bradley Beal #3 of the Washington Wizards looks on against the Toronto Raptors during the second half at Capital One Arena on March 2, 2023 in Washington, DC. NOTE TO USER: User expressly acknowledges and agrees that, by do
When asked if he expects to be back with the Wizards, he said he can't foresee the future, but yes, he does.
"Y'all acting like y'all trying to kick me out of here," Beal joked.
Perhaps the reason these questions persist is because Beal and the Wizards feel like outliers in today's NBA. In a league where other teams embrace massive rebuilds that put them near the bottom of the standings — and the top of the draft — Washington is trying to build a mediocre team into a successful one without bottoming out.
And if anyone found it surprising that Beal stayed with the Wizards in the first place, it's only natural for them to wonder if he might eventually ask for a trade if the team's outlook doesn't improve.
For now, though, Washington is hoping for better health from its biggest names. In Beal, Porzingis and Kuzma, the Wizards have three players who averaged over 21 points per game this season. No other team in the league can say that. But that trio played together only 35 times, and the team went 16-19 in those games.
Porzingis and Kuzma have player options for next season, and Sheppard said the goal is to re-sign both. The Wizards can also hope for some good luck in the draft lottery. After a season like this, it feels like Washington might need a break or two to make real progress.
ON HECKLING:
Beal faced possible misdemeanor battery charges after a fan accused the All-Star of hitting him during an argument after a game at Orlando. According to the police report, Beal was walking down a tunnel to the Wizards' locker room following a loss. A fan swore at Beal and accused him of causing the fan to lose $1,300 from a bet.
"Nobody wants to lose money. I get it. If you keep it about sports, I'm all for it," Beal said Monday. "But I think it's when people start getting personal, talking about your family, talking about your character, your integrity towards the game. I think all of that, we can save it. We can really keep those comments to ourselves."
Beal said he's noticed a bit more nastiness related to sports gambling in the past few years.
"I understand. I go to casinos, I gamble, I understand that. But I also understand it's probably a 99% chance I'm going to lose," he said. "I'm not sitting here about to get angry at the dealer or angry at everybody else."