Bowser, Hogan, Northam send Trump, other fed leaders letter calling for end to government shutdown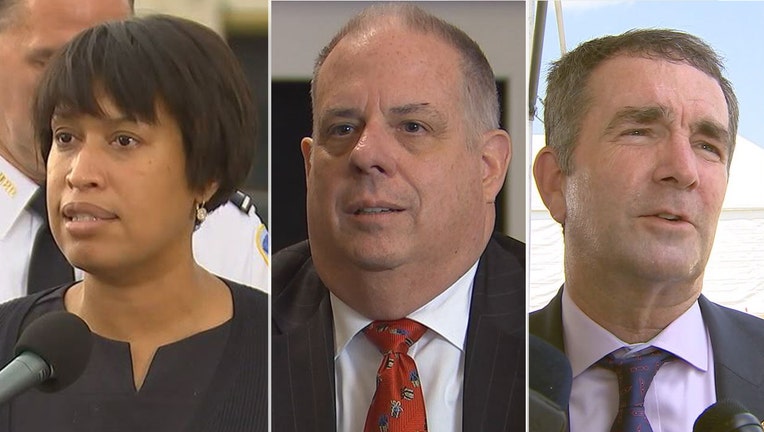 WASHINGTON (FOX 5 DC) - The leaders of Washington, D.C., Maryland and Virginia have joined together to issue a statement calling for the end to a prolonged partial government shutdown.
Washington, D.C. Mayor Muriel Bowser, Maryland Governor Larry Hogan and Virginia Governor Ralph Northam released a joint letter on Friday.
The letter was addressed to President Donald Trump, Senate Majority Leader Mitch McConnell, Senate Minority Leader Chuck Schumer, House Speaker Nancy Pelosi, and House Minority Leader Kevin McCarthy.
"As our federal employees and contractors experience a sudden loss of income, this not only causes financial hardship for individuals and families, but also deals a significant blow to our region's economy," read the letter in part. "Hard-working federal employees and those who depend on them should not have to suffer because of this partisan standoff."
Many of the regions 360,000 federal workers are employed by the departments and agencies affected by shutdown, the letter states.
"Imposing this unnecessary hardship on federal employees is unacceptable and represents a failure of leadership," the letter continues. "We urge you to fully consider the impact that a shutdown has on the national capital region and the country. We ask that you reach across the aisle to find a path forward and end this stalemate today so the federal employees in our region and across the country can get back to work."