Boeing ordered to be arraigned on felony charge in crashes of two 737 MAX planes
DALLAS - A federal judge has ordered Boeing Co. to be arraigned on a felony charge stemming from crashes of two 737 Max jets, a ruling that threatens to unravel an agreement Boeing negotiated to avoid prosecution.
The ruling by a judge in Texas came after relatives of some of the victims said the government violated their rights by reaching a settlement with Boeing without first notifying the families.
U.S. District Court Judge Reed O'Connor ordered Boeing to send a representative to his courtroom in Fort Worth Jan. 26 for arraignment.
A Boeing spokesman said the company had no comment. The Justice Department, which did not oppose a public arraignment but has fought against re-opening the settlement, also declined to comment.
RELATED: Problem-plagued Boeing sets ambitious turnaround targets
The judge's ruling is a narrow one that does not guarantee Boeing will face prosecution. That, however, remains the goal of lawyers for relatives of some of the 346 people killed in the crashes.
One of those lawyers, Paul Cassell, said the Justice Department could stand by the settlement even after the arraignment and a hearing at which passengers' survivors are expected to speak.
"But we believe this was such a rotten deal that ... (the Justice Department) can and should, after hearing from the victims, re-do the deal," Cassell said. "They should be prosecuted."
RELATED: Alaska Airlines expands Boeing 737 MAX fleet with 'biggest order' in its 90-year history
The judge has not ruled yet on a separate motion by lawyers for the families to strip Boeing's immunity from prosecution.
The families accuse the government of cutting a secret deal with Boeing without telling them about the negotiations.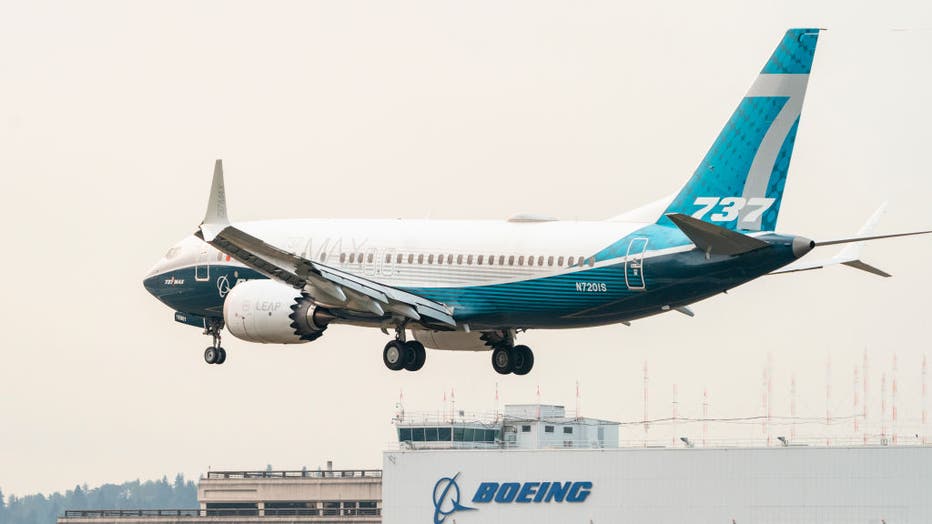 SEATTLE, WA - SEPTEMBER 30: A Boeing 737 MAX airplane piloted by FAA Chief Steve Dickson lands Boeing Field to conclude a test flight, on September 30, 2020 in Seattle, Washington. (Photo by Stephen Brashear/Getty Images)
O'Connor ruled last year that the relatives are crime victims under federal law and should have been consulted before the Justice Department agreed to a deal under which Boeing paid $2.5 billion to avoid prosecution on a criminal count of defrauding federal regulators who approved the 737 Max.
Most of the money from the settlement went to airlines that couldn't use their Max jets for nearly two years after the planes were grounded worldwide. Boeing agreed to pay a $243.6 million fine and create a $500 million fund to compensate victims' families.
RELATED: United places huge order with Boeing to replace aging planes
The first passenger flight of a Max took place in May 2017. The crashes occurred in October 2018 in Indonesia and less than five months later in Ethiopia.
On both planes, an automated flight-control system that Boeing did not initially disclose to airlines and pilots pushed the nose down based on a faulty reading from a single sensor on the fuselage. The Federal Aviation Administration cleared Max jets to resume flying in late 2020 after Boeing redesigned the flight system.
The crashes led to congressional investigations that harshly criticized both Boeing and the FAA. Congress made changes in how the FAA will certify planes in the future.
RELATED: Boeing's last 747 to roll out of Everett factory
The only criminal charges stemming from the Max saga were filed against a former Boeing test pilot, who was accused of deceiving the FAA. A jury in Fort Worth found him not guilty last year.