Two Maryland men arrested in string of Fairfax County 7-Eleven gaming machine thefts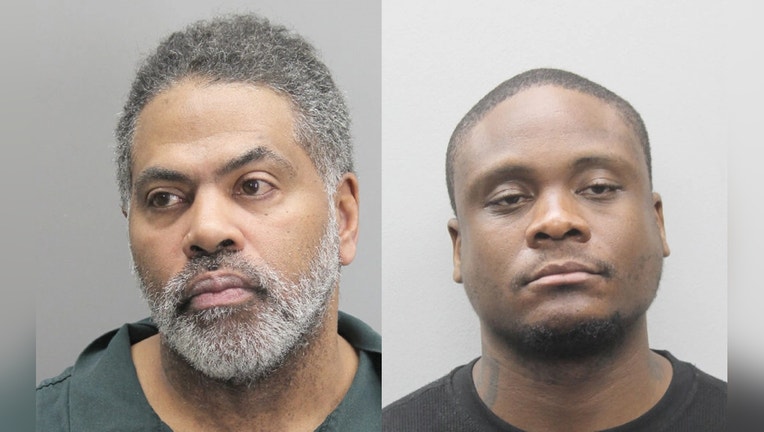 article
FAIRFAX COUNTY, Va. - Two Maryland men are facing charges after being arrested in connection with a string of gaming machine robberies targeting 7-Eleven stores in Fairfax County.
Fairfax County Police confirmed on Wednesday that Leonard Jones, 59, and Terrell Hardy, 35, were arrested after the latest gaming machine theft on Tuesday at an Alexandria 7-Eleven store.
In that instance, according to police, the two men stole a gaming machine from the 7-Eleven store located at 8434 Frye Road, and loaded it into a silver truck before taking off from the scene.
Officers saturated the area after the theft, and eventually found a truck matching the description at a 7-Eleven store located at 8226 Russell Road also in Alexandria.
The officers stopped the truck, and found parts of a gaming machine in plain view inside the truck bed.
They also said that the two men inside the truck were wearing clothes that matched the description of the men seen stealing a gaming machine from the Frye Road store.
As a result, Jones and Hardy were taken into custody.
Jones is charged with grand larceny, possession of burglarious tools, two counts of destruction of property and petit larceny, while Hardy faces counts of grand larceny, destruction of property and simple assault. 
Police said additional charges against both men are possible, as detectives continue to review evidence in the six previous gaming machine thefts.
Those other six incidents also happened in Fairfax County over the last month, with four happening in Alexandria, one in Springfield, and one in McLean. In some of the instances, the thieves stole the entire machine, while in other cases, they attempted to break inside the machine while still in the store.
Police are asking anyone with information to call 703-246-7800 or 1-866-411-8477.