Americans feeling most pessimistic about financial future since 2010, survey shows
Americans are feeling increasingly gloomy about their personal financial prospects over the next year as high inflation and rising interest rates squeeze consumers.
A new survey from Fannie Mae shows that just 31% of respondents expect their personal financial situation to improve over the next year, the lowest reading in a series that first began in 2010. At the same time, just 28% of Americans believe the economy is on the right track, according to the survey.
The decline in sentiment comes as the Federal Reserve signals that interest rates may need to climb higher than previously projected as a result of underlying inflationary pressures within the economy.
In testimony before the Senate Banking Committee Tuesday, Federal Reserve Chair Jerome Powell said: "The latest economic data have come in stronger than expected, which suggests that the ultimate level of interest rates is likely to be higher than previously anticipated."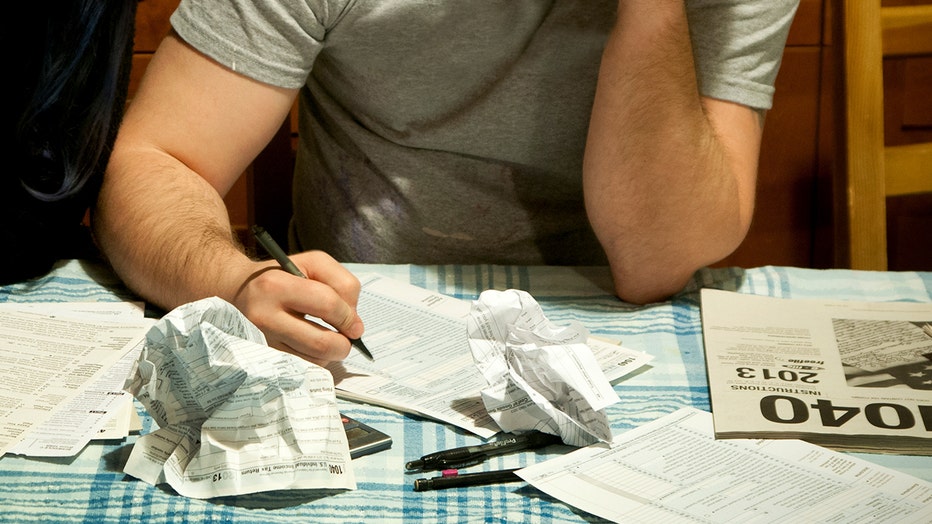 Man does his taxes ahead of Tax Day.
FED CHAIR POWELL SAYS INTEREST RATES ARE 'LIKELY TO BE HIGHER' THAN PREVIOUSLY EXPECTED
Hiking interest rates tends to create higher rates on consumer and business loans, which slows the economy by forcing employers to cut back on spending. Higher borrowing costs are already squeezing consumers in the form of steeper mortgage rates, credit card fees and auto loans.
On top of that, stubbornly high inflation has already created severe financial pressures for most U.S. households, which are forced to pay more for everyday necessities like food and rent. The burden is disproportionately borne by low-income Americans, whose already-stretched paychecks are heavily impacted by price fluctuations. 
The Labor Department reported in February that the consumer price index rose 0.5% in January, the most in three months. The annual inflation rate also surprised to the upside at 6.4%.
And despite continued strength in the labor market, the survey also pointed to growing concerns among workers about job security. The share of employed respondents who said they are worried about losing their job climbed to 24%, the highest in more than two years.
MARKETS MAY BE UNDERESTIMATING THE THREAT OF HIGH INFLATION, BLACKROCK WARNS
Fed officials have made it clear that they expect unemployment to climb as a result of higher rates, which could force consumers and businesses to pull back on spending. Updated projections from the central bank's December meeting show that officials expect unemployment to rise to 4.5% by the end of next year, up from the current rate of 3.5%.
RELATED: America is more rent-burdened than ever: These cities take the biggest chunk of your budget
That could mean more than 1 million Americans lose their jobs between now and the end of 2023.
The Fannie Mae survey echoes findings from Gallup published last month, which showed that half of Americans say they are financially worse off now than they were a year ago, the highest amount since 2009.
"High inflation, rising interest rates, and declining stock values in 2022 all likely took their toll on Americans' financial situations, with half saying their situation got worse in the past year," the Gallup survey said. "Lower-income Americans, who have consistently been most likely to report that higher prices are causing them financial hardship, are particularly inclined to say they are financially worse off."