2023 Women's Marches held in DC, nationwide on 50th anniversary of Roe v. Wade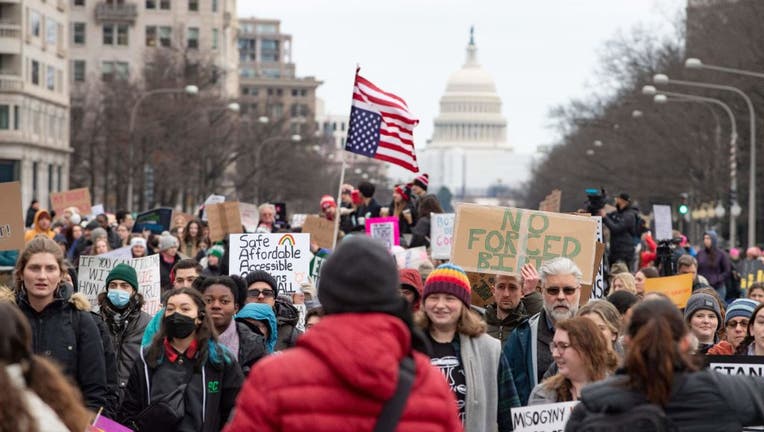 article
WASHINGTON - The 2023 Woman's March held rallies Sunday in cities across the country, including in D.C., on the 50th anniversary of Roe v. Wade, the landmark case that codified the right to an abortion, but was overturned in 2022 in by the Supreme Court.
This year's main march dubbed as being "Bigger than Roe" is happening in Wisconsin "where an upcoming Supreme Court election this Spring will determine the balance of power on the State's Supreme Court and the future of abortion rights" in the state, according to organizers.
Demonstrators take part in the annual National Women's March in Washington, DC, on January 22, 2023, marking the 50th anniversary of the 1973 US Supreme Court Roe v. Wade decision legalizing abortion. - The US Supreme Court on June 24, 2022 struck down the Roe v. Wade decision which legalized abortion, ending five decades of constitutional protections. (Photo by ROBERTO SCHMIDT / AFP) (Photo by ROBERTO SCHMIDT/AFP via Getty Images)
In addition to that march, a sister rally was held at Freedom Plaza in Northwest D.C. According to the event's website, nearly 2,000 people were expected to attend the march in D.C.
The last Women's March in D.C. happened in October ahead of the 2022 midterm elections with the goal of rallying support for pro-choice candidates.
This year's march aims to continue that movement by "sending a clear message to elected leaders."
"We are taking our fight to every state house and every state legislator in this country," the Women's March website says. "We are putting all politicians at every level of government on notice: If you come for our families, our freedoms, or our future, we are coming for your seat. Our movement is strong. Our movement is growing."
Click here to learn more about the nationwide Women's Marches happening Sunday.