Over 200 homicides: DC's tragic milestone announced after teen, man killed in separate shootings
WASHINGTON - D.C. has officially seen more than 200 homicides this year, according to the Metropolitan Police Department. 
The tragic milestone was announced at a news conference Tuesday as police provided an update on a shooting that left a teen dead in Northwest D.C. and gave details on a Southeast D.C. shooting that came just an hour after where a man died. 
The first shooting was reported at 3:46 p.m. The caller told police that shots were fired in the 1500 block of 4th St., NW. The victim, a teenage boy, was later found on New Jersey Ave., NW and P St., NW with gunshot wounds. 
According to officials, the victim was part of a group that was involved in a dispute with another group of people. A member of the other group pulled out a gun and fired multiple shots at the victim. He was later pronounced dead.
Police issued a lookout for two Black men, one of whom was reportedly wearing a black hoodie and jeans and the other was wearing a grey hoodie and black and red shoes. They were last seen going east in the 300 block of P St NW.
Just an hour later at 4:47 p.m., Metropolitan police were called to the 1300 block of Savannah St., SE, for another report of a shooting. Upon arrival, officers found an adult man with multiple gunshot wounds. He was pronounced dead at the scene. 
Following a preliminary investigation, detectives say it appears this victim was caught in the crossfire of two vehicles that were firing shots at each other. 
"In just the past two hours, we have had two members of our community killed by senseless acts of gun violence," MPD Acting Police Chief Pamela Smith said. "We have too many guns on our streets and as a community, we need to do everything we can to stop this violence from plaguing our city." 
A 16-year-old was shot and killed in Southeast D.C. Monday afternoon. He was identified as Jamal Jones. MPD is continuing to search for two suspects believed to be involved in that shooting. 
A Southeast D.C. middle school was also placed on lockdown Monday after gunfire struck several windows of a kindergarten classroom.
Parents and students were shaken by the incident. Students who were outside to hurry back into the building while those who were inside were ushered away from the building's windows, and movement between classes was halted. Investigators found bullets struck and lodged into the windows of two classrooms. 
A woman was shot and killed by a stray bullet late Monday night in the 5100 block of Fitch Street, SE. Police said it wasn't clear if the victim, 40-year-old Tangia Tates-Little, was the intended target. 
And police are continuing their investigation into the murder of Blake Bozeman, a 31-year-old father and college basketball player, who was shot and killed over the weekend at the Cru Lounge.
At the beginning of the day Tuesday, the latest data from MPD indicated that there had been 199 homicides so far this year — a 28% increase from 2022. But in the news conference following Tuesday's deadly shootings, Chief Smith said there were eight death cases in the District initially designated as "undetermined" that have since been ruled as homicides by the Chief Office of the Medical Examiner. 
Those cases have not yet been included in MPD's homicide counts for this year, meaning D.C. has actually seen a total of 209 murders this year.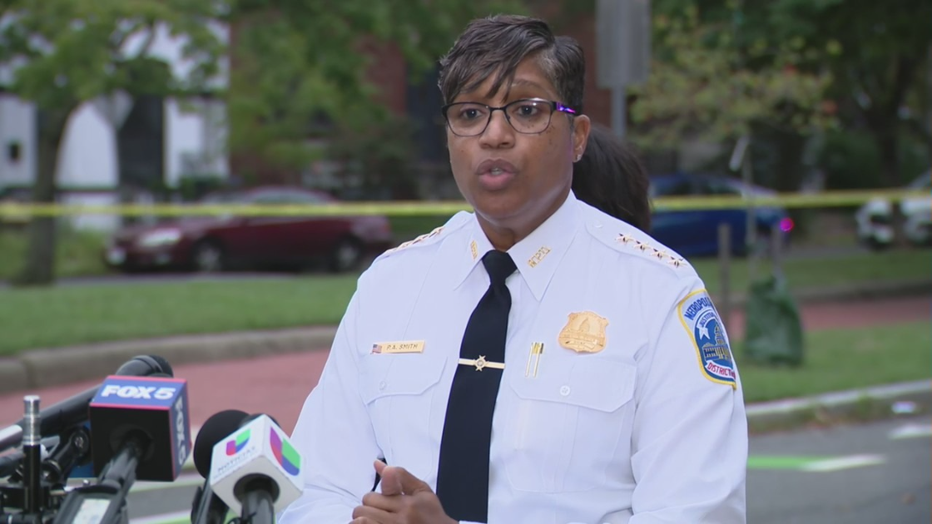 Acting D.C. Police Chief Pamela Smith says there's been over 200 homicides in the District in 2023 so far.
It's a disturbing new number that Smith says comes down to getting guns off the street and getting community members to speak up when crimes are committed in their neighborhoods. 
"What I can say is this: To me, numbers are just numbers. When we lose one person — whether it's one or 200 — that's too many. That's too many folks dying in the District of Columbia and we need to put an end to this senseless gun violence," she said. "What we've found is that there are a lot of illegal guns are coming into the District and there are people who know who is committing these crimes and we need folks to just stop these senseless acts with guns in our District."
The D.C. Police Union released a statement on the new data, saying they believe the D.C. council's emergency police reform legislation passed in 2020 — the Comprehensive Policing and Justice Reform Act — is to blame for police staff shortages and increasing violence. 
"This marks the first time since 2002-2004 that D.C. has suffered three years in a row with 200-plus homicides. Last year, this grim milestone was not reached until December 29th," their statement read. 
"Since the passage of so-called 'emergency police reform' legislation in June of 2020, over 1,300 police officers have separated from MPD. Most of the members who have left cited the Council's treatment of law enforcement and political rhetoric, which not only makes policing more difficult and therefore less effective, but it also endangers police officers and their families. MPD staffing is at one of the lowest levels in decades," the statement continued. 
With homicides on the rise, many have asked the Metropolitan Police Department if it has considered calling in the National Guard. When asked about this Tuesday, Smith only said that we "need to get the guns off the street."  
Ward 8 councilmember Trayon White was one of the voices asking D.C. Mayor Muriel Bowser to bring in the Guard. Earlier this year, he called D.C. a "warzone" and said he believes the presence of armed military members would be key to help local police combat crime. 
Bowser responded to the request saying she would be happy to have a conversation with the councilmember and shares his safety concerns.