Women's World Cup: Team USA vs the Netherlands ends in draw in replay of 2019 Final | July 26, 2023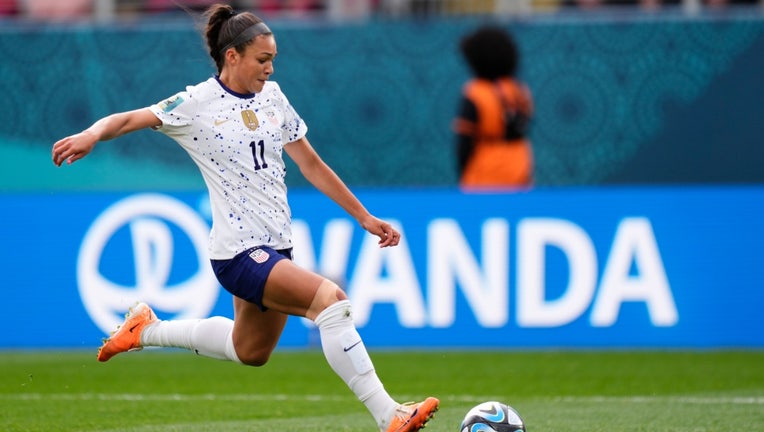 article
CHICAGO - The FIFA Women's World Cup only happens once every four years, and whether you're a soccer devotee or someone who just tunes in when the Cup comes around, you won't want to miss the action. Never fear: We've got you covered.
Every day through the Final on August 20, FOX Digital will be breaking down the details on all the can't-miss matches, players to watch and other essential details. What's next: The U.S. take to the pitch for the second time in the tournament. 
Watch the 2023 FIFA Women's World Cup only on FOX and FS1.
Women's World Cup matches on July 26, 2023
Day 7 of the 2023 FIFA Women's World Cup features three matches. 
Japan (1-0-0) vs. Costa Rica (0-1-0) Final score-Japan 2 Costa Rica 0
          Watch the replay of Japan vs. Costa Rica here
Spain (1-0-0) vs. Zambia (0-1-0) Final score-Final score Spain 5 Zambia 0
         Watch the replay of Spain vs. Zambia here
Canada (0-0-1) vs. Republic of Ireland (0-1-0) Final score-Canada 2 Republic of Ireland 1
         Watch the replay of Canada vs. Ireland here
USA (1-0-0)  vs. the Netherlands (1-0-0) Final score-U.S. 1 Netherlands 1
         Watch the replay of the U.S. vs. Netherlands here
For details on the results of concluded matches, scroll down to the 'Soccer spoilers' section. 
Match spotlight: USA vs. the Netherlands
We're now firmly in the second batch of group stage matches, with all of group C, as well as teams from groups B and E, seeking to either lock down a second win or eke out their first. There are some compelling matchups in the making, but the real fireworks should start when the U.S. takes on the Netherlands.
While Team USA may be the favorite to win it all, it's far from a sure thing. USWNT has been dealt some significant injuries over the last several months – perhaps most notably longtime captain Becky Sauerbrunn and rising star Mallory Swanson. As a result, they'll take the pitch as a somewhat new squad (of the 23 players on the roster, 10 will be making their Women's World Cup debut). The 2019 champs will need to best some excellent teams en route to the final – the Netherlands among them. 
RELATED: 2023 Women's World Cup betting primer: How to bet on soccer
Nine veterans, including the retiring Megan Rapinoe, will take the pitch alongside 14 newcomers. Of that seasoned nine, only five were members of both the 2015 and 2019 championship squads: Rapinoe, Alyssa Naeher, Kelley O'Hara, Julie Ertz and co-captain Alex Morgan. (Morgan's co-captain, Lindsay Horan, made her WWC debut in 2019.) Luckily, one of the team's many newcomers is superstar Sophia Smith, who scored two of Team USA's goals in its victory last week over Vietnam. 
As for the Netherlands, they're well-acquainted with the capabilities of the U.S. team – after all, it was the Dutch the U.S. faced in the Final for the 2019 Cup. It's widely expected that both teams will advance out of the group stage, but this match is likely to impact the fates of both teams as they move through the tournament. Here's how Doug McIntyre of FOX Sports put it:
"The team that tops the group will face a second-place foe — likely Argentina, Italy or South Africa — to open the win-or-go-home phase of the competition and have an easier travel schedule for the remainder of their stay Down Under.
They'll also avoid a probable Round of 16 date with Sweden. The Swedes, widely regarded as the best program never to win a Women's World Cup, beat the U.S. in each of the last two Olympics."
So two tough squads are meeting with a lot on the line, even if the stakes aren't yet win-or-go-home. Should be a barn-burner.
Players to watch on July 26, 2023
USA: Sophia Smith, left-winger/striker
This 23-year-old superstar is likely to become an even bigger name after her first Cup appearance – something made clear by her two goals in Team USA's opening match of the tournament. Smith led the Portland Thorns to a 2022 championship, and was named MVP of the National Women's Soccer League. FIFA calls her "one of the best and most complete forwards on the planet," while FOX Sports put it this way: "She is sensational with the ball at her feet and a superior finisher. This is her first World Cup, and she is primed for a breakout on the global stage."
Netherlands: Lieke Martens, forward
Called "one of the most exciting attacking players of her generation" by FIFA, this former UEFA Player of the Year isn't her team's only source of firepower, but she's formidable – and not just as a goal-scorer. Now playing in her third WWC, FIFA praises the Paris Saint-Germain star's "exceptional ability to pass her way out of tight spaces," adding that her "pinpoint accuracy from long range and excellent reading of the game pulls opposition defenses out of shape, allowing the 30-year-old to create opportunities for her team-mates in the penalty area."
Canada: Christine Sinclair, forward
FOX Sports, who says the 40-year-old Canadian captain is "one of the greatest soccer players of all time," has some mind-bending stats that should make her importance clear: She "currently holds the record — in men's and women's soccer — with 190 international goals in more than 300 matches." She's hoping to become the first player, male or female, to score in six editions of the Cup (Brazilian legend Marta is chasing the same record). Icons have a tendency to be iconic!
Costa Rica: Raquel Rodriguez Cedeno, forward
Portland Thorns star Cedeno, a.k.a. "Rocky," is her country's all-time leading scorer. FOX Sports says she's "in the prime of her career and a game-changer in central midfield," while FIFA calls her "the undisputed star of the Tica squad."
Zambia: Barbra Banda, forward
The energetic captain of Zambia's first World Cup-qualifying squad "exploded on to the world stage at the Olympic Games in 2021, scoring hat-tricks in Zambia's opening two games of the tournament against the Netherlands and China PR," according to FIFA. Coach Bruce Mwape told the organization that Banda is "a fighter, a person who doesn't like to lose, and one of our most dependable players."
Spain: Alexia Putellas, midfielder
This back-to-back Ballon d'Or winner is one of the best players on the planet, period. FIFA calls her a " skilful playmaker [who is] equipped with a mesmerizing left foot and an unerring ability to decisively affect matches by creating viable scoring opportunities for herself and her team-mates," while FOX Sports says that, like Beyoncé, Britney and Cher, "her one-name status as 'Alexia' is well-earned."
Republic of Ireland: Katie McCabe, midfielder/winger/wingback
This versatile player was named captain of the Irish in 2017 at the ripe old age of 21. A standout for the mighty Arsenal football club – this year she was named the Player of the Season for Arsenal, as well as delivering the score named Goal of the Season – she's ready to lead her country's team to what may be an impressive WWC debut.
Japan: Saki Kumagai, defender
Japan and coach Futoshi Ikeda will be relying on this captain to steer the team toward victory – she's the only member of the current Nadeshiko squad to play a role in Japan's 2011 World Cup victory.
Where is the 2023 Women's World Cup taking place?
The eyes (and cameras) of the world have turned toward host countries Australia and New Zealand. 
In what time zone is the Women's World Cup taking place?
Well, there's more than one time zone involved, as the battles for the Cup will take place in 10 stadiums in two countries. But suffice it to say that you're looking at times that are anywhere from 12 hours (for matches in Perth, Australia) to 16 hours (all New Zealand-based matches) ahead of EST. 
That means some matches – like Nigeria vs. Canada, the first match of day two (July 21) – will be played early in the day locally but air on what's technically the evening before in the U.S. (in this case, July 20). Who said there's no such thing as time travel?
RELATED: Who could be the breakout star for this young, talented USWNT squad?
Where can you stream the FIFA Women's World Cup?
We're living in the future, baby! All matches will be live-streamed on FOXSports.com and via the FOX Sports app, and full replays will also be available. So if you're not into watching soccer at 3 a.m., you're covered! 
How can I watch the FIFA Women's World Cup on live TV?
The FIFA Women's World Cup will air on FOX and FS1. The complete schedule awaits your perusal at FOXSports.com. In addition to all FIFA Women's World Cup matches, head to your preferred FOX platform for game highlights, replays, stats, player stories, analysis and more. 
How does the elimination round work in the Women's World Cup?
Good question! As with the men's World Cup, it's a wee bit complicated. The 32 qualifying teams have been split into eight groups, each assigned a letter (A-H). In the first round, the groups compete against each other: each "side" (team) will participate in three in-group matches. A win is worth three points, a draw worth one point and a loss is worth (you guessed it) zero points. 
At the end of the round, the top two teams (as determined by point total) in each group proceed to the knockout round. That's 16 teams total. 
When does Team USA play next?
After their July 27 showdown with the Netherlands, Alex Morgan, Lindsay Horan and company will square off against Portugal on August 1.
Soccer spoilers: today's results
United States vs. Netherlands: The highly anticipated tilt between the United States and the Netherlands on Wednesday ended in a 1-1 draw at New Zealand's Wellington Regional Stadium.
The USWNT overcame a disjointed first half to seize control and net a 62nd-minute equalizer on a header from co-captain Lindsey Horan that reversed momentum during a second-half onslaught and ultimately earned the Americans a 1-1 draw.
The draw snapped a streak of 13 consecutive wins at the World Cup for the USWNT, but kept the Americans atop Group E with one match remaining against Portugal on Aug. 1.
Canada vs. Republic of Ireland: Canada took a 2-1 lead after a sliding kick from Adriana Leon flies right past Brosnan.  Canada's attempts to get on the board were unsuccessful until first-half stoppage time, when Julia Grosso sent a fastball that was deflected by Ireland's Megan Connolly, causing an own goal and tying the match 1-1.
Japan vs. Costa Rica: Japan remained atop the Group C standings with a 2-0 victory behind goals from Hikaru Naomoto and 19-year-old Aoba Fujino. The first-half scores came within two minutes of one another, with the latter being Fujino's first World Cup goal.  Costa Rica has yet to win a game this tournament and will face Zambia next, while Japan is 2-0 and will go up against Spain; both games will be played Monday.
Spain vs. Zambia: Spain came away with the win, and will advance to the Round of 16 after defeating The Copper Queens, 5-0. Teresa Abilleira was the first to strike, scoring her second goal of the tournament for Spain. That was soon followed by a nice header from Jennifer Hermoso, after a perfect pass from Alexia Putellas found the Zambia defense sleeping.
Hermosa and Alba Redondo had two goals each on the night as Spain continued its perfect tournament play, tying fellow Group C team Japan, who they will face on Monday.
Watch this space!
Watch the 2023 FIFA Women's World Cup only on FOX and FS1.