Tom Brady, Alex Smith sit as New England beats Washington 26-17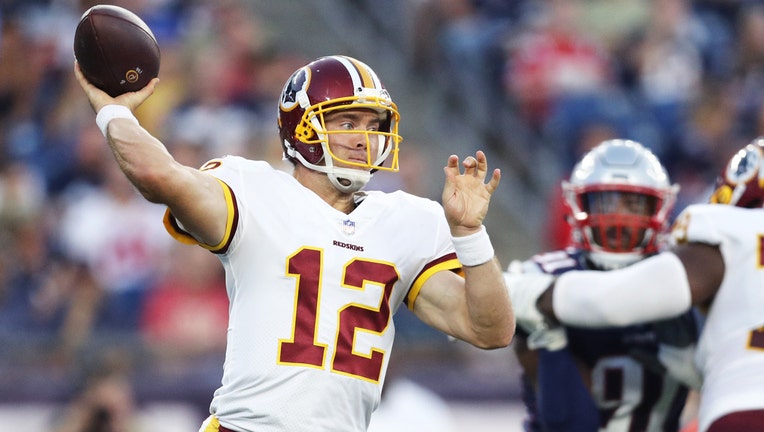 article
FOXBOROUGH, Mass. - (AP) -- Colt McCoy outplayed Brian Hoyer in a scrimmage of backup quarterbacks, while Tom Brady and Alex Smith stayed on the sidelines counting their money.
On the day that the Patriots reportedly sweetened Brady's contract with $5 million in incentives, the reigning NFL MVP sat out the team's exhibition season opener.
So did his Washington counterpart, Smith, who was traded to the nation's capital in the offseason and received a four-year, $94 million extension.
In their place, McCoy completed 13 of 18 passes for 189 yards and two touchdowns as Washington opened 17-0 lead in the first half. Hoyer struggled against the Washington starters, but drove New England to a pair of second-half touchdowns, including Ralph Webb's 8-yard run for a score followed by the catch on a 2-point conversion that gave New England its first lead en route to a 26-17 victory in the exhibition season opener on Thursday night.
Webb also added a 1-yard score that made it 26-17 after Trent Harris strip-sacked Washington third-stringer Kevin Hogan and Geneo Grissom recovered and ran 53 yards before he was brought down near the goal line.
ESPN reported before the game that the Patriots would add $5 million in incentives to Brady's contract, bringing the 41-year-old, five-time Super Bowl champion closer in pay to less accomplished quarterbacks around the league -- such as Smith. Brady's contract was due to pay him about $15 million this year; his agent, Don Yee, did not immediately respond to an email seeking comment.
The Patriots offense, which was also without tight end Rob Gronkowski, did little until back-to-back 20-plus yard catches by Devin Lucien set up Stephen Gostkowski's 52-yard field goal just before halftime. Mike Gillislee ran seven times for 31 yards on a drive that set up Jeremy Hill's 1-yard run.
Webb made it 18-17 with nine minutes left in the game and added an insurance score with 3:27 to play. Dustin Hopkins, who kicked a 52-yard field goal at the end of the first quarter, banged a 56-yarder off the left upright just inside the two-minute warning.
Third-stringer Danny Etling, a seventh-round draft pick, was 1 of 3 for 18 yards, with a fumble for New England. Hogan completed 7 of 9 passes for 44 yards, but also fumbled for Washington.
INJURIES
Washington was hit with a slew of injuries, including second-round draft pick Derrius Guice, who left the game with a knee injury after a 34-yard run (which was negated by a penalty) near the end of the first quarter. Also needing medical attention: TE Manasseh Gardner (knee), and WR Trey Quinn, who took a hard shot in the side from Patriots cornerback Ryan Lewis and took a few minutes to get up before heading to the medical tent.
LEADING THE CHARGE
As usual, Brady led the team out of the tunnel before the game. But he was not carrying a helmet as he jogged onto the field. Julian Edelman, who missed all of last season with a knee injury and will miss the first four games of 2018 because of a suspension for performance-enhancers, sprinted the length of the field.
BIG PLAY
McCoy hit Cam Sims with a 57-yard pass midway through the second quarter. Sims pulled the ball down behind his defender, made one person miss at the sideline and dodged another before he was brought down at the 2. Two plays later, McCoy connected with Maurice Harris to give Washington a 17-0 lead.
NATIONAL ANTHEM
All of the players on each team appeared to stand for the national anthem, some bowing their heads and others placing their hands on their hearts. The Patriots observed a moment of silence beforehand for Weymouth police officer Michael Chesna, who was killed last month in the line of duty.
NEXT UP
Washington: Hosts the New York Jets on Thursday night in its second exhibition game.
Patriots: Play their second and final home preseason game on Thursday night with a Super Bowl rematch against the Philadelphia Eagles.