Sources: Wizards reach deal with Scott Brooks to be new head coach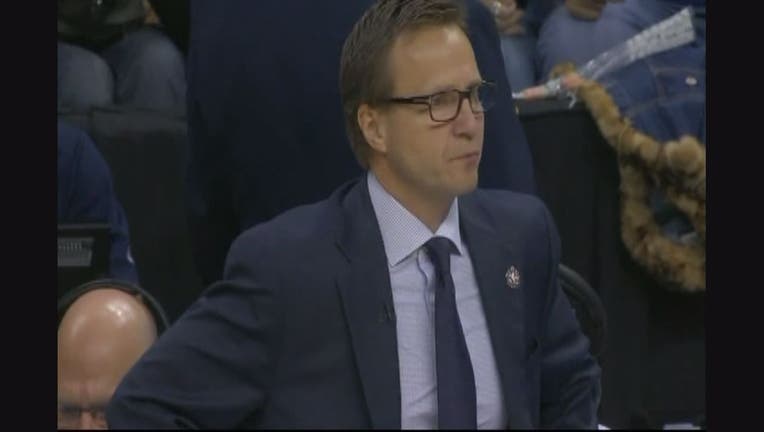 article
WASHINGTON (AP) -- Scott Brooks is on his way to Washington, the latest move made by the Wizards that could have the added benefit of enticing Kevin Durant to return home this summer.
The Wizards reached agreement with Brooks to become the team's new coach on Thursday, said two people familiar with the deal. The people spoke to The Associated Press on condition of anonymity because no announcement had been made.
The sides agreed on a five-year deal, one of the people told the AP.
Brooks had a 338-207 record in seven years with the Oklahoma City Thunder. He helped develop Durant and Russell Westbrook into perennial All-Stars and led the Thunder to the NBA Finals in 2012.
He replaces Randy Wittman, whose contract option was not picked up after Washington went 41-41 and finished 10th in the Eastern Conference. The Wizards succumbed to injury and inconsistency in Wittman's final season and were among the league's most disappointing teams after reaching the second round of the playoffs the past two seasons.
The Wizards moved quickly to bring in a coach who was very much in demand, ensuring that the Houston Rockets, a team that Brooks played for during his NBA career and is still in the first round of the playoffs, never got a chance to consider him. Brooks also drew some consideration from Minnesota before the Timberwolves hired Tom Thibodeau.
Wizards President Ernie Grunfeld flew to California to meet with Brooks this week and set the wheels in motion to bring him to Washington.
Brooks fits what Grunfeld said he was looking for: a coach who can build a strong defensive team. Brooks also has another quality: A past relationship with Durant and they continue to hold a deep respect for one another.
Durant grew up in the Washington area and will be a free-agent this summer. Grunfeld has a roster full of players with contracts that expired after the season and plenty of cap space to add a player of Durant's caliber to a team led by All-Star point guard John Wall and shooting guard Bradley Beal.
But the Wizards went after Brooks for more than his relationship with Durant. Washington was seeking an accomplished and experienced coach to lead a core group of players about to enter the prime of their careers.
Brooks is a teacher who also helped Serge Ibaka solidify himself as one of the league's best defensive big men. His ability to relate to players marks a departure from Wittman, a disciplinarian who took many of his cues from his college coach, Bob Knight.
Brooks is expected to be able to interact well to Beal and Wall, who acknowledged having a shouting match with Wittman toward the end of the season. Nevertheless, Wall said he had "a great relationship" with Wittman.
Brooks was criticized in Oklahoma City when the Thunder's offense would become stagnant in the fourth quarters of playoff games as Westbrook and Durant seemed to take turns running isolation plays. Now it is Brooks' job to get the most out of another talented backcourt and help the Wizards get back to the playoffs.
___
Jon Krawczynski reported from Minneapolis