Redskins blow 17-point lead, lose season opener at Philadelphia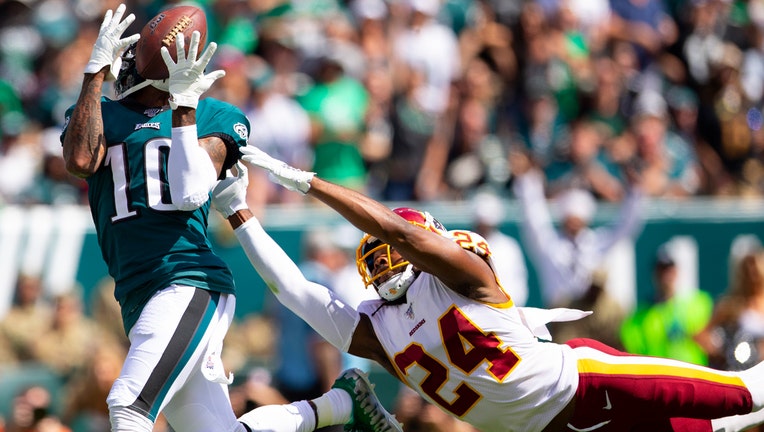 PHILADELPHIA - The Redskins surrendered a double-digit lead at halftime to lose their season opener at Philadelphia. The final score was 32-27.
The Burgundy and Gold impressed early despite entering the game as 10-point underdogs. 
Veteran tight end Vernon Davis, who got the start in the absence of the injured Jordan Reed, hurdled an Eagles defender to break out a 48-yard touchdown on the Redskins' first drive. Davis, a D.C. native who lost his grandfather Saturday, was visibly emotional after the play. 
Rookie receiver Terry McLaurin turned on the jets in the 2nd quarter to score a 70-yard touchdown in his NFL debut. The play gave the Redskins a 17-point lead.
The Redskins led 20-7 at halftime, but the Eagles brought their own fireworks in the 2nd half.
DeSean Jackson scored on two 50+ yard touchdown catches in his return to Philadelphia. Veteran receiver Alshon Jeffery added two touchdowns for the Eagles in the red zone.
Redskins receiver Trey Quinn scored with seconds left in the game, but it wasn't enough.
The 'Skins season continues next Sunday at 1 p.m., when they host the Dallas Cowboys at FedEx Field. Watch live on Fox 5, and catch Redskins Game Time at 7:30 a.m. for pregame analysis.