New York Islanders hire former Washington Capitals coach Barry Trotz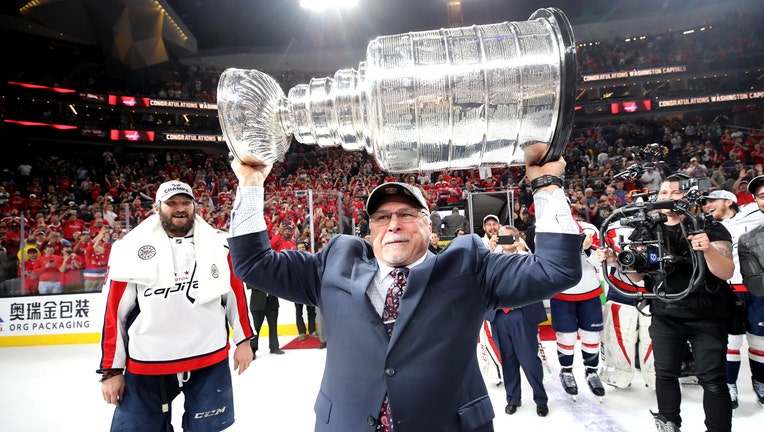 article
NEW YORK - (AP) -- The New York Islanders have hired Barry Trotz as their new head coach.
President of hockey operations Lou Lamoriello announced the move Thursday at the NHL draft, two weeks after Trotz won the Stanley Cup with the Washington Capitals and three days after he resigned from that job. Trotz reportedly agreed to a five-year deal worth double what he would have made annually on a shorter contract with the Capitals.
Hiring Trotz fresh off his Stanley Cup victory is another statement to face-of-the-franchise center John Tavares, who can become a free agent July 1. Finding a permanent arena at Belmont Park and ownership hiring three-time Cup-winning Lamoriello were seen as building blocks to trying to re-sign Tavares.
In the past 40 years, Trotz is just the fifth coach not to return to a Stanley Cup-winner and the first since Scotty Bowman retired after winning with Detroit in 2002. Mike Keenan in 1994 was the last coach to leave a Cup champion in a contract dispute when he did not return to the New York Rangers.
Trotz has the fifth-most wins of any coach in NHL history and led Washington to back-to-back Presidents' Trophy seasons in 2015-16 and 2016-17.
Despite that, the Capitals let the 55-year-old go into the final year of his contract without an extension, in large part because he had never made it past the second round of the playoffs.
Under Trotz, the Capitals won their first title in franchise history this season, which triggered a clause in his contract that gave him a $300,000 raise to about $2 million for the next two seasons.
General manager Brian MacLellan said a long-term contract and Trotz's representative wanting to have him paid among the top four or five coaches in the NHL were sticking points, and Trotz asked for and was given his resignation Monday.
The Islanders put Trotz in that stratosphere, behind Toronto's Mike Babcock, Chicago's Joel Quenneville and Montreal's Claude Julien but ahead of most of the rest of the league.