Nats game played amidst dangerously low air quality
WASHINGTON - The Washington Nationals Wednesday night game versus the Arizona Diamondbacks was played as scheduled despite dangerously low air quality in the District. 
The announcement came via the team's official Twitter page just two and a half hours before the game's scheduled 7:05 p.m. start time. 
Before the game, the Air Quality Index (AQI) around Nationals Park read 172, according to Purple Air, an air quality monitoring service.
The threshold is 150 for what the index considers a Code Red or conditions unhealthy regardless of individual health. 
"Be mindful," FOX 5's Bob Barnard said during a report Wednesday. "You can feel it in your mouth. You can feel it in your lungs, and it's only gonna get worse the next couple of days." 
The entire D.C. area was blanketed in a thick layer of smoke early Wednesday morning. The smoke came from wildfires raging farther north in Canada. 
The Nats' announcement was met with substantial backlash. 
Fans on Twitter were critical of the team's decision to not postpone Wednesday's game. 
"It's a huge health concern and a danger to everyone," Nationals fan page Nationals Homers replied to the team's announcement. 
Some Nats fans who attended the game told FOX 5 they decided to leave early due to the air quality.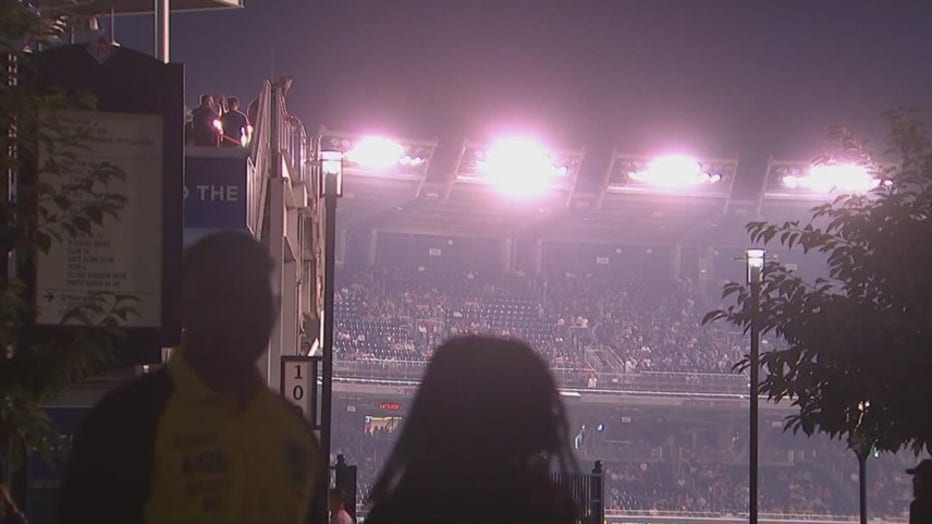 Those who stuck around, saw the Nationals lose to the surging Diamondbacks, 6-2. The Nats have lost four games in a row, and seven of their last nine matchups.