Nationals set team scoring record, rout Mets 25-4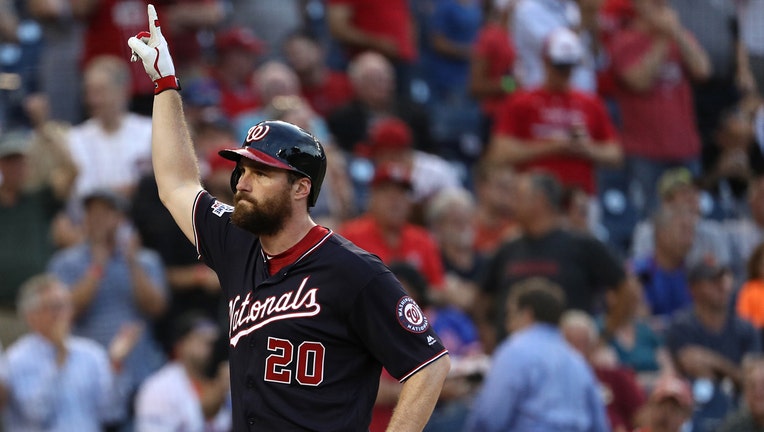 article
WASHINGTON (AP) -- In the highest-scoring game in franchise history, Daniel Murphy hit two early home runs and the Washington Nationals kept pouring it on against emergency reliever Jose Reyes and the New York Mets in a 25-4 rout Tuesday night.
Trea Turner, who apologized before the game to his teammates for homophobic and racially insensitive tweets he sent several years ago, had four of Washington's 26 hits. Pitcher Tanner Roark hit a three-run double during a seven-run first inning.
The Nationals set the team scoring mark dating to their days as the Montreal Expos in 1969. It was the Mets' most-lopsided loss in their 57-season history, worse than a 26-7 pounding by Philadelphia in 1985.
Reyes made the first pitching appearance of his career, and the 35-year-old infielder got tagged for home runs by Matt Adams and Mark Reynolds in a six-run eighth. Throwing a fastball in the mid-80s mph and a curve in the upper 40s, Reyes gave up five hits and walked two.
Reyes also plunked Ryan Zimmerman with a soft toss. After getting hit in the leg, Zimmerman playfully faked a charge toward the mound, drawing a laugh from Reyes, who wore one of ace Jacob deGrom's gloves on the mound.
The game got so out of hand, Mets television announcers Keith Hernandez, Ron Darling and Gary Cohen took turns reading verbatim from the team's media guide in the late innings -- the SNY network played the theme from "Masterpiece Theatre" in the background.
Murphy drove in six runs, Anthony Rendon had four RBIs and Zimmerman also homered.
Ahead 7-0, the Nationals then scored exactly three runs in the second, third, fourth and fifth innings.
Hours after general manager Mike Rizzo capped a relatively uneventful trade deadline day by expressing his confidence in the Nationals as currently constituted, Washington broke loose in evening its record at 53-53.
Bryce Harper, who had been mentioned in trade speculation, hit a pair of RBI doubles and scored three times.
Leading 25-1 in the ninth, the Nationals still hit a little speed bump at the end. Reliever Shawn Kelley gave up a home run to Austin Jackson, wound up and flung his glove to the ground.
Jeff McNeil hit his first career home run. As he headed from the plate back the Mets dugout, he already had the souvenir. The ball came back on the field, and was flipped to him before he reached the bench.
Roark (5-12) went seven innings. Steven Matz (5-9) got only two outs and allowed seven runs in the shortest start of his career.
Murphy had an RBI single in the first, a two-run homer in the second and a three-run drive in the third. The ex-Met is hitting .391 (59 for 151) with 11 homers and 43 RBIs against New York.
TRAINER'S ROOM
Mets: 1B Wilmer Flores left the game in the first inning with dehydration and dizziness. . INF Todd Frazier (left rib cage muscle strain) is scheduled to play nine innings in a rehab assignment in Brooklyn on Wednesday. . Manager Mickey Callaway said OF Jay Bruce (sore right hip) will start hitting on Wednesday.
Nationals: Manager Dave Martinez said RHP Stephen Strasburg (cervical nerve impingement) played catch yesterday and could progress through his throwing program rapidly. . RHP Sean Doolittle (left foot stress reaction) had an MRI on Monday which was virtually unchanged from last week. Doolittle was hoping for improvement, but said the trainers were pleased there was no change.
UP NEXT
Mets RHP Noah Syndergaard (6-1, 2.89) returns from the disabled list to oppose LHP Tommy Milone (0-0, 5.40) in the series finale.