Murphy a huge hit in Nats debut, 4-3 win over Braves in 10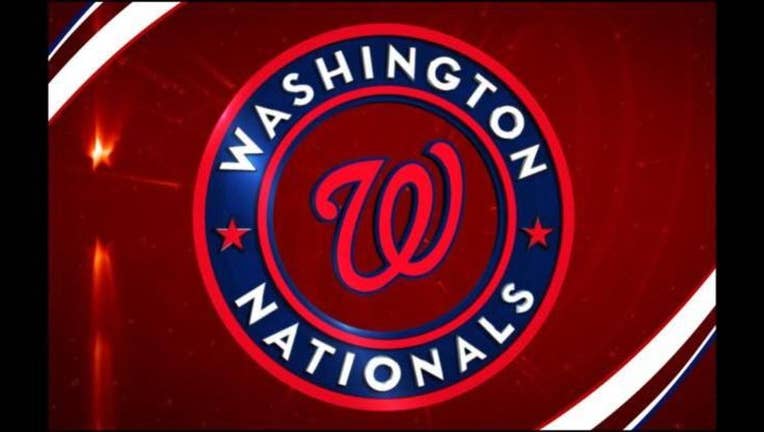 ATLANTA (AP) -- Extra innings on the road left Dusty Baker exhausted but happy in his debut as Nationals manager.
"It's kind of like the game telling me, welcome back," Baker said.
Daniel Murphy, also making his Washington debut, was a huge hit with a home run and a go-ahead double in the 10th inning, and the Nationals rallied past the Atlanta Braves 4-3 in their season opener Monday.
NL MVP Bryce Harper also homered in his first plate appearance of the season.
Baker said players gave him the "victory ball" following a display of strong starting pitching, solid defense and just enough offense.
"Obviously, what we did late in the game, that just speaks volumes," said Max Scherzer, who allowed two runs and three hits in seven innings.
"To tie the game in the ninth and then find a way to win it, that's just great baseball."
Washington got even in the ninth on Michael Taylor's sacrifice fly to shallow center field. Atlanta nearly escaped with a game-ending double play, but Jayson Werth scored when catcher A.J. Pierzynski dropped Ender Inciarte's accurate throw that beat Werth to the plate.
Murphy's one-out double to left off Eric O'Flaherty (0-1) drove in Ryan Zimmerman from second base in the 10th. Zimmerman reached on a two-base throwing error by second baseman Gordon Beckham.
Murphy also walked twice in his first game since leaving the rival Mets as a free agent and signing a $37.5 million, three-year contract with Washington. The 2015 NLCS MVP set a postseason record last year by hitting a home run in six consecutive playoff games.
Freddie Freeman and Adonis Garcia homered against Scherzer.
Blake Treinen (1-0) pitched a scoreless ninth for Washington. Jonathan Papelbon got three straight outs for the save.
The Braves took a 3-2 lead in the eighth on Shawn Kelley's bases-loaded walk to Garcia.
Harper homered into the right-field seats off Julio Teheran in the first inning. Only 23, the slugger already has four career homers on opening day. He homered twice in the 2013 opener and also connected last year.
Teheran allowed two runs on five hits and three walks in six innings.
Baseball's new "Chase Utley Rule" cost the Braves a baserunner after Nick Markakis walked in the seventh. On Hector Olivera's grounder to third, Markakis slid wide of second base, upending Murphy, whose throw to first was late.
Olivera was ruled out at first for a double play because the slide by Markakis took him too far inside the bag.
Asked if he thought Markakis was too wide on his slide, Baker smiled and said, "That new rule kind of worked in our favor."