Jill Biden wants to invite LSU and Iowa to the White House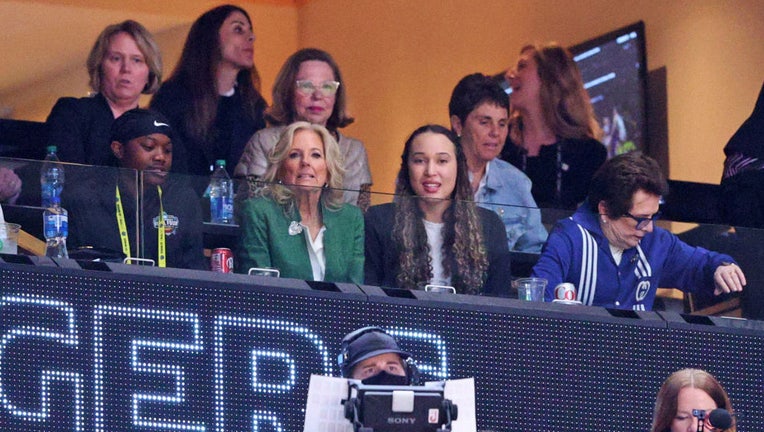 article
WASHINGTON - First lady Jill Biden said Monday that she wants the defeated Iowa women's basketball team to be invited to the White House in addition to the national title winner Louisiana State University. She watched LSU's 102-85 victory over Iowa from the stands on Sunday night.
Biden, speaking at the Colorado state capital in Denver, praised Iowa's sportsmanship and congratulated both teams on their performance.
"I know we'll have the champions come to the White House, we always do. So, we hope LSU will come," she said. "But, you know, I'm going to tell Joe I think Iowa should come, too, because they played such a good game."
RELATED: LSU's Reese unapologetic over gestures to Iowa's Clark at NCAA championship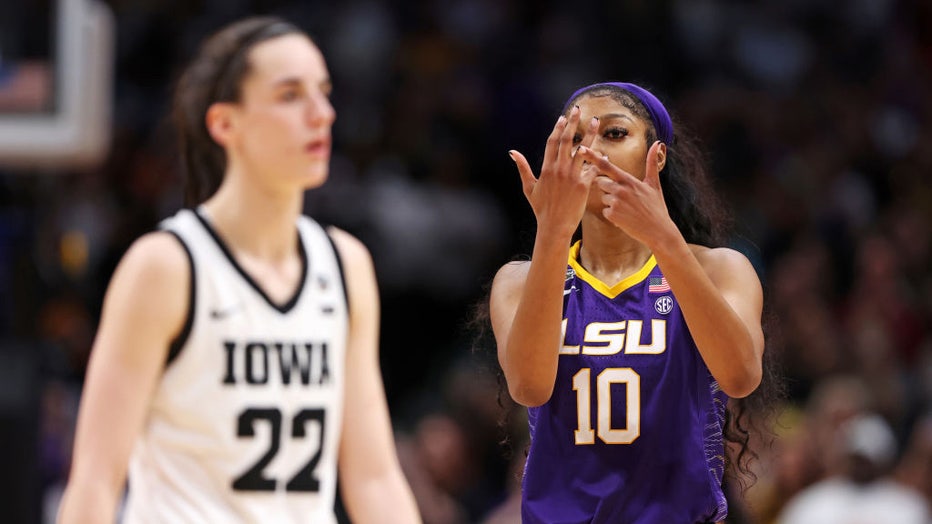 Angel Reese #10 of the LSU Lady Tigers reacts towards Caitlin Clark #22 of the Iowa Hawkeyes during the fourth quarter during the 2023 NCAA Women's Basketball Tournament championship. (Maddie Meyer/Getty Images)
The White House didn't immediately respond to a request for comment about whether President Joe Biden would also extend a White House invite to Iowa — and whether it would be a joint visit with LSU or a separate engagement.
Following LSU's victory, Tigers coach Kim Mulkey said she would go to the White House if the team was invited.
LSU star Angel Reese tweeted a link to a story on Jill Biden's remarks on Monday. " A JOKE," she wrote, along with three rolling-on-floor-laughing emojis.
Reese — the Final Four's Most Outstanding Player — has gotten a lot of attention on social media during the past 24 hours, ever since she waved her hand in front of her face while staring down Iowa star Caitlin Clark in the final moments of LSU's win, then pointed toward her finger as if to say a ring was coming.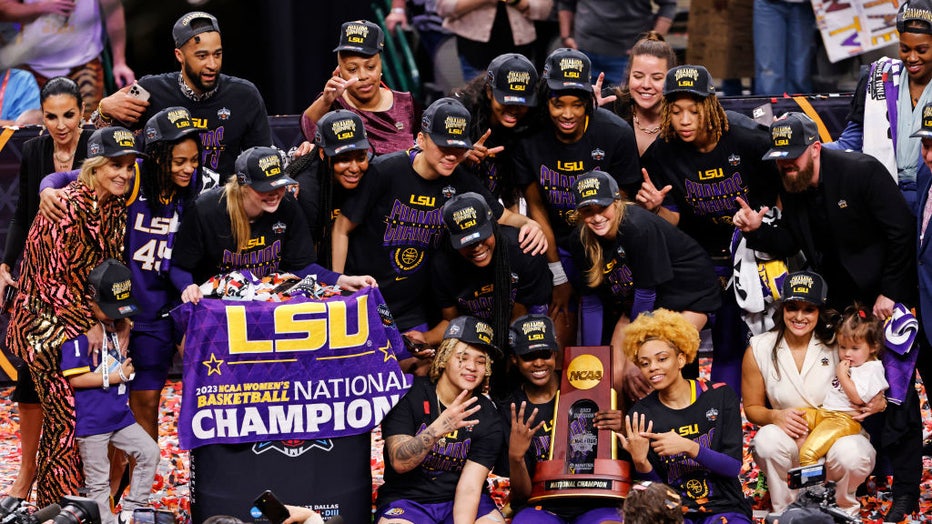 Head coach Kim Mulkey of the LSU Lady Tigers and players pose after defeating the Iowa Hawkeyes 102-85 during the 2023 NCAA Women's Basketball Tournament championship game. (Ron Jenkins/Getty Images)
Clark set the record for points scored in an NCAA Tournament with 191 in six games. If she saw Reese's gestures, Clark didn't seem concerned about them.
Social media lit up in the aftermath, with some believing it was trash talk that's just part of the game while others condemned her for lacking grace in victory. Reese was unapologetic.
"All year, I was critiqued about who I was," Reese said. "I don't fit in a box that y'all want me to be in. I'm too hood. I'm too ghetto. But when other people do it, y'all say nothing. So this was for the girls that look like me, that's going to speak up on what they believe in. It's unapologetically you."
Reese is Black while Clark is white.
Clark, the scoring sensation who was the first with consecutive 40-point games in an NCAA Tournament, made a similar face-waving gesture to no one in particular during Iowa's Elite Eight victory over Louisville.
Iowa did not immediately respond to a request for comment on the invitation.
In her remarks, Biden also marveled at how far women's sports in the U.S. have come since Title IX in 1972 gave women equal rights in sports at schools that receive federal funding.
"It was so exciting, wasn't it," the first lady said. "It was such a great game. I'm old enough that I remember when we got Title IX. We fought so hard, right? We fought so hard. And look at where women's sports have come today."
AP Sports Writers David Brandt, Schuyler Dixon and Eric Olson contributed to this story.