Celebrity chef José Andrés throws out ceremonial first pitch at Game 5 of the World Series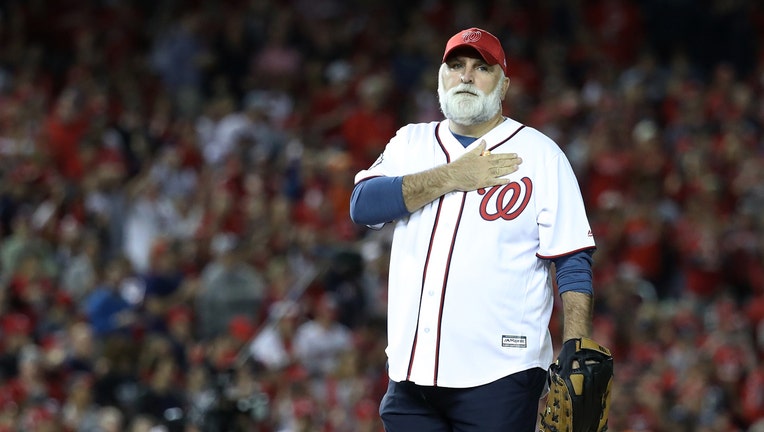 WASHINGTON - Washington-based celebrity chef Jose Andrés got a big cheer when he lobbed the ceremonial first pitch ahead of Game 5 of the World Series at Nationals Park.
Andrés is a vocal critic of President Donald Trump's immigration policies and his administration's response to Hurricane Maria in Puerto Rico. He was chosen by the team to toss the first ball. Andrés, a native of Spain, pumped his fist after the ball barely crossed home plate on the fly.
WATCH THE FIRST PITCH:
Trump is attending Game 5, the first time he has been to Nationals Park since he took office. He planned to arrive after the game began to minimize disruption to fans trying to enter the stadium. The stands were full of red towel-waving fans before the first pitch despite enhanced security at entrance gates that included explosive-sniffing dogs, Secret Service officers and Transportation Security Agency employees.
Sgt. Major Bob McDonald of the U.S. Army Chorus sang the national anthem.
DOWNLOAD: The FOX 5 DC News app for local breaking news and weather
The internationally recognized chef fed thousands of federal workers who were furloughed back in January. He also recently assisted with the Hurricane Dorian recovery by cooking for victims in the Bahamas.
President Trump, who feuded with Andrés in the past, will be in attendance for Game 5. Andrés backed out of a plan to open a restaurant at the Trump International Hotel citing then-candidate Donald Trump's statements "disparaging immigrants."
Chad Cordero and Brian Schneider, teammates in the team's early days in D.C., threw out the ceremonial first pitch of Game 3 of the World Series on Friday.
The Associated Press contributed to this report. 
You can watch all the 2019 World Series action on FOX 5.