Alabama sees home away from home in Georgia Dome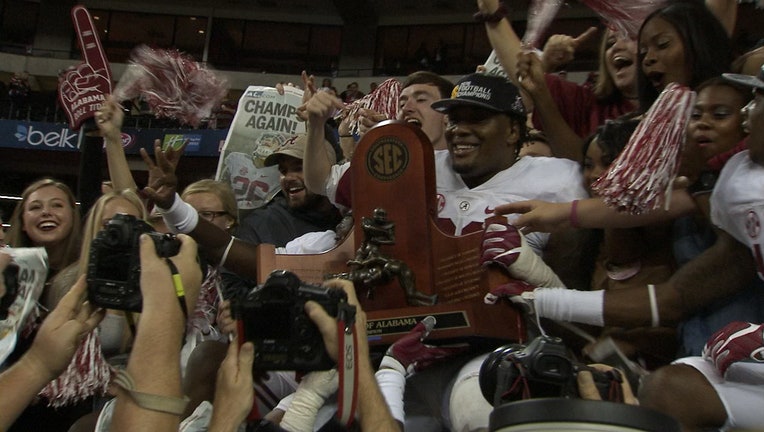 article
ATLANTA - The Alabama Crimson Tide will be back on familiar turf in the College Football Playoff semifinal game New Year's Eve.
"Playing here so much, it feels like a home stadium," said Tide defensive lineman Dalvin Tomlinson.
Tomlinson graduated from Henry County High School, so any game back in his home state feels familiar; but if you play for Alabama, you probably know the Georgia Dome well. The Crimson Tide visit downtown Atlanta all the time: they've won four of the last five SEC Championship games plus appearances in Chick-fil-A season kickoff games. For veterans, it can be hard to keep count.
Asked how many times he's played in the Dome, redshirt junior offensive lineman thought, and said, "I think five, maybe? Six?"
The next game at the familiar venue will be December 31 at 3 p.m. when they take on the University of Washington. If they win, they'll take on either Clemson or Ohio State in the national championship game.
For the Tide, it's not the frequency of appearances -- it's that almost all of the trips lately have been wins. Alabama's won their last eight games at the Georgia Dome. Crimson Tide head coach Nick Saban is 12-1 as a head coach in the building.
"It feels so, like home," said Alabama tight end OJ Howard. "We've been here so many times. Our fan base travels well to Atlanta, it feels great to come here. I think everyone will be relaxed and ready to play ball."
The trips are extra special for the Alabama players from nearby, including true freshman tight end Miller Forristall who caught a touchdown at the Georgia Dome in 2015 playing in a state championship game for Cartersville High School.
"Same locker [for the SEC Championship game] room as last year," said Forristall. "That's what these guys said, 'Tuscaloosa west' is out in Dallas, here is '[Tuscaloosa] east.' It'll be pretty nice."
The Georgia Dome feels like home for Alabama football. They'll look to help close the building down with another momentous win on New Year's Eve.