Today's Real Estate Market: What You Need to Know
SPONSORED CONTENT
This content is from our sponsor. The FOX editorial team was not involved with the creation of this content.
Sponsored by LFCU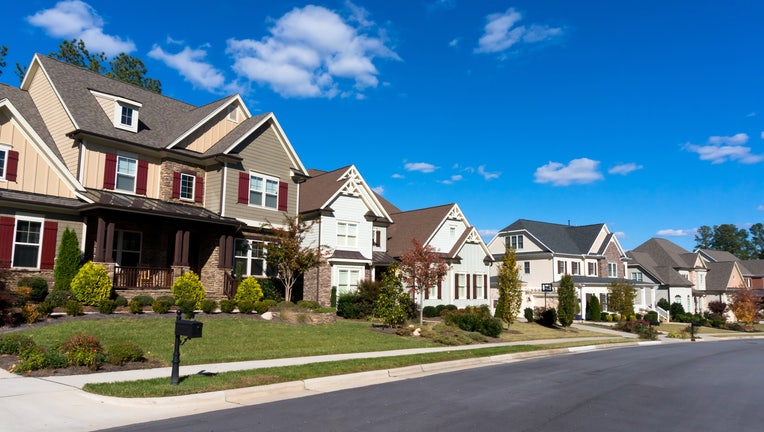 WASHINGTON (FOX 5 DC) - Terms like "red-hot", "frenzied", and "on fire" have all been used to describe the real estate market in 2021. What these terms imply is that sellers have the upper hand – and buyers decidedly do not. 
However, the state of the market does not mean that buyers can't find a place they absolutely love – they may just need to be more strategic to understand and adjust to current trends. 
At Lafayette Federal Credit Union, we're spending the summer helping both buyers and sellers navigate current real estate trends and processes so that, even though the market may be "in a frenzy", people can still find a place they love to call home. 
Why Is the Real Estate Market So Hot Right Now?
According to a report released by the National Association of Realtors, median home prices in February 2021 were up 15.8% from February 2020 [1] (just before the onset of the pandemic in the US). The current state of the market can be attributed to a variety of factors, including:
Covid-19-related changes to lifestyle and spending habits

Historically low interest rates

Millennials reaching peak homebuying age

Low and declining housing inventory [2]

Technological advances
It's no surprise that the Covid-19 pandemic has had a huge impact on the real estate market. Although the market did experience a decline at the onset of the pandemic, this decline turned out to be a brief blip in the overall trajectory. The gains that came after more than made up for any losses experienced in March. [3]
In response to the pandemic, the Federal Reserve implemented record-low interest rates in an effort to entice more people to continue borrowing money and participating in the economy. These low interest rates have clearly had the desired effect, and the Fed has stated interest rates will likely remain low through 2023. [4]
The pandemic is also responsible for the fact that millions of Americans now have the capability to work remotely, which caused many families to leave high-rent cities for more affordable housing in the suburbs and states with lower costs of living. This capability, coupled with decreased spending during most of 2020, meant that Americans were able to save more for down payments and emergency funds.
Additionally, tens of millions of millennials are now reaching their peak homebuying age. As this generation builds more financial security, they are flooding a market with low inventory, as home building hasn't kept pace with population growth since the Great Recession. [5]
And finally, technological advancements in the homebuying industry have made it easier than ever for buyers to find properties and complete transactions, exacerbating the slow rate of building new homes. Online platforms have made it easier for people to peruse listings they're interested in, while digital mortgage approvals and virtual closings allow buyers and sellers to complete transactions quickly and painlessly. Lafayette Federal members are eligible to utilize our HomeAdvantage program, an exclusive, free member service that can help you search, buy, sell, and save on your next home.
Altogether, the combination of these factors has contributed to the skyrocketing prices, bidding wars, and lightspeed closings we've seen in the last year.
Projected Appreciation & Depreciation
Despite fears of a looming market crash, most housing economists predict we are not actually experiencing a bubble [6] (although this is impossible to know for sure). Economists don't think a major crash is likely because the underlying drivers for higher demand and appreciating prices are legitimate. 
In 2008, the rapid – and ultimately unsustainable – increase in home prices was driven by lenders extending easy credit to millions of unsuitable buyers. In 2021, credit eligibility and approval are more heavily regulated. The number of reliable buyers has increased, while the number of homes available to buy has not kept pace. 
This supply-and-demand relationship demonstrates a tangible reason for appreciating home values. Due to the factors listed above, some economists expect home price appreciation to extend well into 2022 with a forecasted 11.8% increase through next April [7] Additionally, home prices through the rest of 2021 are expected to be 10.3% higher than they were in 2020. 
Top 3 Things Buyers Need to Know in Today's Market
It's impossible to say for sure what will happen in the next year and beyond in terms of the housing market. All we can do right now is assume that current conditions may reflect reality for some time to come. With that in mind, these are the top 3 things homebuyers need to know:
Listing price is often the starting bid

Contingencies may be waived

You need a strong Pre-Approval letter (aka a Loan Approval Commitment)
Gone are the days when you could expect to bid below the asking price on a home with any reasonable chance of your offer being accepted. Now, it's likely that the listing price is actually the starting bid. Most homes will sell for higher than their listing price, and many realtors are preparing their clients to expect that most homes will sell for a full 5% over the asking price. Be sure to account for this probability when choosing homes to tour within your budget.
Additionally, buyers are so eager to get into properties in 2021 that they are waiving their right to inspections. Most buyers in this market expect to purchase homes as-is no matter the condition of the home, so if the property needs improvements, updates, or repairs before you move in, don't expect the seller to negotiate with you.
And finally, you need a strong Loan Approval Commitment (aka, Pre-Approval) in hand when you begin touring properties so you're ready to make an offer as soon as you find a home you love. Contact an LFCU Mortgage Loan Officer to get started on your Loan Approval Commitment. 
Ultimately, knowing market trends and timelines will help you become a more savvy homebuyer. Even though purchasing a home is a huge investment, you don't have much time to deliberate in today's market. If you find a home you love that's within your budget, be ready to move quickly.
Top 3 Things Sellers Need to Know in Today's Market
As a seller in today's market, you stand to make a huge profit on your home. But there are still things you can do to increase your chances of achieving the outcome you want. Here are the top 3 things you need to know:
Price appropriately

Consider making strategic updates to your home

Review every detail of the offers you receive
Even though homes are flying off the market, it's still important to price your home strategically to attract enough buyers in the right amount of time. Buyers have more access to technology than ever before, and they're comparing your home to the prices of similar properties in your area. 
Besides, you'll likely receive offers well above the asking price, so starting lower could entice more buyers to submit more competitive offers. Make sure you have a top-notch real estate agent from Lafayette Federal HomeAdvantage® to help you price your home correctly so you can get the highest possible offers.
Additionally, making strategic updates to your home and ensuring it's spic-and-span (seriously, it needs to be cleaned from top to bottom) will improve your chances of receiving more or higher offers. Of course, even less-than-pristine homes are flying off the markets this summer. But if you improve or update your home before listing it, you'll likely see even more competitive offers.
And finally, review every detail of the offers you receive beyond looking at the highest bid. When deciding between offers, you should also consider the buyers' financing situation, when they want to close, contingencies or unusual requests, and the amount of their down payment.
Your HomeAdvantage® real estate agent can help you weigh the pros and cons of each offer so you choose the best one for your situation, needs, and goals.
Start Your Journey with Lafayette Federal Credit Union
Lafayette Federal Credit Union is a not-for-profit organization. We are community-minded, we are your neighbors, and we are here to help you find a home you love, even in today's crazy market.
We look forward to sitting down with you to discuss your needs, wants, and dreams for your future home. We will help you envision your dream home and discuss what's most important, whether that be the size of the home, the neighborhood you want to live in, or the surrounding schools and area. 
Then we'll crunch the numbers to determine how much home you can afford and develop useful strategies to help you get to where you want to be. When it comes to picking a mortgage lender, there's really no question: LFCU is the right lender for you. 
We offer:
Loan programs designed to help you purchase your dream home

A true Pre-Approval Program (our Loan Approval Commitment)

The Peace of Mind Purchase Lock

30-day close guarantee

Virtual closings

Competitive rates
Additionally, don't forget to register for our upcoming webinar sessions:
Getting Your House Ready to Sell – 7/24 @ 10:00 am

Preparing for an Offer – 8/7 @ 10:00 am

What You Need to Know About the Settlement – 8/21 @ 10:00 am
[1] https://www.nar.realtor/newsroom/existing-home-sales-descend-6-6-in-february
[2] https://www.wsj.com/articles/u-s-housing-market-needs-5-5-million-more-units-says-new-report-11623835800
[3] https://magazine.realtor/daily-news/2020/11/19/home-sales-are-on-fire-up-27-from-a-year-ago
[4] https://www.marketwatch.com/story/fed-sees-no-rate-hikes-through-2023-despite-some-inflation-overshoot-11616004261
[5] https://www.businessinsider.com/us-underbuilding-housing-over-the-past-decade-2020-9
[6] https://www.bankrate.com/mortgages/is-the-housing-market-about-to-crash/
[7] https://www.zillow.com/research/zillow-home-value-sales-forecast-29520/
Peter Benjamin, CMB®, SVP Mortgage Lending (Lafayette Federal)
A mortgage professional with 19 years of experience, I have held various positions within the industry. I joined Lafayette Federal in 2017, and prior to that I held leadership positions with several larger organizations. My team, consisting of professionals with over 100 years of combined mortgage banking experience, is always willing to go the extra mile to support you through your homebuying journey.
SPONSORED CONTENT
This content is from our sponsor. The FOX editorial team was not involved with the creation of this content.