'You've got to celebrate this': Doug Williams discusses historic Super Bowl LVII quarterback matchup
WASHINGTON - This weekend's Super Bowl LVII will be one for the history books as Jalen Hurts and Patrick Mahomes take the field. Football fans across the country have been celebrating the fact that this Sunday, two African American Quarterbacks will be going head-to-head for the first time in Super Bowl history. 
Also reflecting on that moment is former Washington football quarterback Doug Williams, who opened those doors 35 years ago, when he became the first African American quarterback to both play and win Super Bowl XXII back in 1988.
Williams admits he became emotional after Kansas City's win solidified this year's match-up. His eyes welled. He called a close friend.
READ MORE: Here's what time Super Bowl LVII will air in DC, Maryland and Virginia - and how you can watch online
"All I could say was, 'Could you believe it? That was my thing. Could you believe it? It happened," said Commanders senior advisor, Doug Williams, "And, you know, we've been talking about that all the time - about the Black quarterbacks and coaches. It's something that we want. And I know that it don't happen when you want it, but hopefully it'll come when you need it."
Williams was also named Super Bowl MVP back in 1988. He now works as a Senior Advisor to Commanders team president, Jason Wright.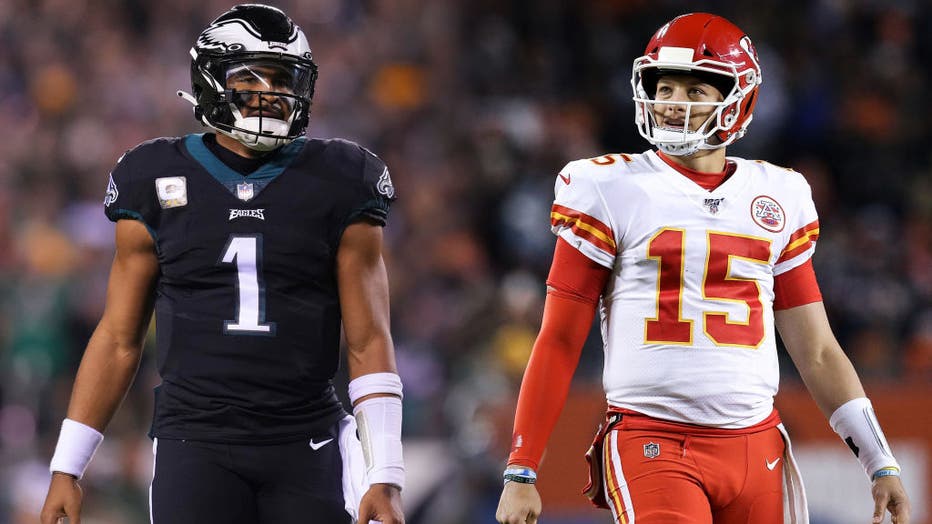 Speaking with FOX 5 on FedEx Field, "Number one, we—we've done some things that should've be done a long a time ago," said Williams, "When you think about myself winning 35-years-ago, and the way I looked at that is the fact that if they had given the guys that deserve an opportunity to plan National Football League before that time, like James Harris, Joe Gilliam, Marlin Briscoe, it might not have been a Doug Williams as a first."
"It's no doubt in [my mind], you've got to celebrate this," said Williams on this the Sunday game. However, making that history is something Williams says he could not focus on at the time.  
READ MORE: Mahomes, Hurts aware of significance of Super Bowl duel
"San Diego back in 1988, when I walked-up on the field, I didn't put pressure on me, because you know you can't play up under pressure if you got it on yourself. My job was to play the game and like I said earlier, I went to San Diego not as a Washington Black Quarterback, I went to San Diego as a quarterback who happened to be Black," he explained. 
Still with the NFL, Williams noted the 11 Black starting quarterbacks seen this year as progress. However, when it comes to Black head coaches, he believes the NFL still has a lot more work to do. 
READ MORE: Super Bowl 2023: Mama Kelce's split Eagles-Chiefs jacket designed by Maryland business owner
Williams tells FOX 5 he has met Mahomes and says he's been texting Hurts, but hasn't said anything to the two quarterbacks this week. Now's not the time to speak with them, he explained. They need to focus on the game, he insisted!
He also still hasn't said which team he's rooting for. 
READ MORE: Super Bowl 2023: 4 Maryland, Virginia players in the big game
"I've already won. The way I look at this, you know, I've already won. I wish I can end up a tie but I know that can't happen. Hopefully it's a great game" said Williams, "When I look at these two – and they're young – two of the best quarterbacks in the football league and they got a lot of football left in them!"
Williams tells FOX 5 he was invited to by the NFL Commissioner to be in Phoenix, AZ and attend this Sunday's Super Bowl in-person.