WINTER WEATHER ADVISORY: Wintry mix possible for afternoon commute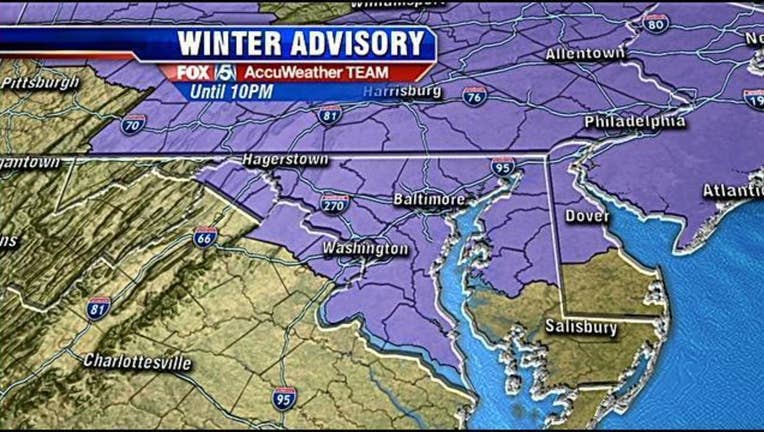 After a messy ice storm moved through the area on Sunday, the D.C. region is in for another wintry mix this afternoon. Sleet has already started to fall in many spots around the area.
National Weather Service has issued a winter weather advisory until 10 p.m. tonight for much of the D.C. region. A mix of snow, sleet and freezing rain is possible through the late evening, until warmer air takes over.
READ: 5 THINGS YOU NEED TO KNOW FOR TUESDAY AFTERNOON
In the District, more than 200 snow trucks have been deployed starting at 11 a.m. The Virginia Department of Transportation says it has pre-treated major roads and trouble spots in northern Virginia Tuesday morning and more than 900 trucks will be out on interstates and major roads in Loudoun, Fairfax, Arlington and Prince William counties.
Check back for updates throughout the day as the system moves in.
WINTER WEATHER TOOLS
Stay with FOX 5 for the latest on the winter weather. Here are some valuable weather links to keep track of the storm:

Download the FOX 5 Weather App

Check the latest weather closings/delays

Check the latest weather radars

Check the latest weather alerts - warnings, watches, advisories

Track airport flight delays

Stay up to date with the FOX 5 Weather Team on Twitter: @fox5weather , @suepalkafox5dc, @garyfox5dc, @TuckerFox5, @gwenfox5dc ? , @MikeTFox5