We're gaining about 2 minutes 19 seconds of daylight each day
WASHINGTON - Have you noticed the amount of daylight we're gaining as the days get longer and longer across the D.C. region! FOX 5's Tucker Barnes says we're adding about two minutes and 19 seconds of daylight to each day.
We experience the fewest minutes of daylight during the winter solstice on December 21 – when we get ony about nine hours and 20 minutes of daylight and the sun sets around 4:45 p.m.
It's hard to notice at first – but beginning the very next day on December 22 – the days start getting longer again.
The sun doesn't start setting after 5 p.m. until early to mid-January. By mid-February – the sun is setting after 5:30 p.m.
We'll continued to add daylight each day until we reach the summer solstice on June 21. That's the longest day of the year when the sun sets after 8:30 p.m. and we see nearly 15 hours of sunlight!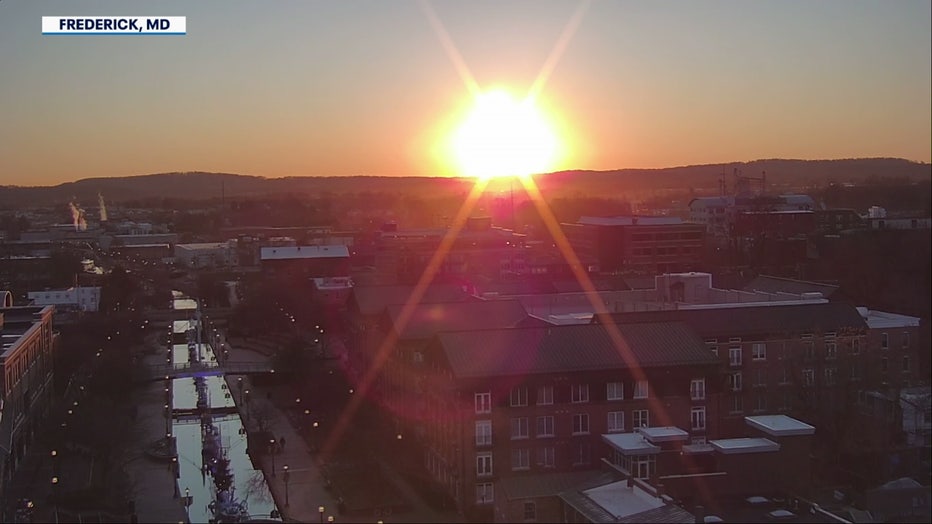 The sun rises over Frederick, Maryland on Tuesday, February 14, 2023
Then we'll lose a few minutes each day through the fall until we reach the winter solstice - and repeat the cycle all over again!
But for now - enjoy the anticipation of knowing we're moving toward the spring and summer months – and toward the longest day of the year!