'We know that there's a bigger impact': Howard University swim team makes history
WASHINGTON - The Howard University's men's swimming and diving made history by winning their conference championship for the first time in decades, so FOX 5 caught up with members of the team to talk about their journey and how they hope it inspires future generations of Black swimmers.
The team won the Northeast Conference (NEC) championship last Saturday in dominant fashion beating out second place Long Island University by 169 points. The victory marked Howard's first ever NEC men's Swimming and Diving championship, and the program's first conference championship in 34 years.
FOX 5 asked the team's head coach, Nicholas Askew, what the victory meant to them as they hope to return Howard to its "rich history of success" in swimming and diving.
"The first few season were all about rebuilding," Askew says looking back on the team's rise. "The University took a firm stance on supporting the program."
READ MORE: Howard University men's basketball wins regular season title, secures No. 1 seed in MEAC Tournament
All that work and support led to Howard becoming one of the most dominant University swim team's in the country. Askew shared with FOX 5 the team's LONG list of accomplishments this season.
"We produced, quite honestly, the most electrifying season in all of college swimming and diving," Askew tells FOX 5. "We broke 31 schools records at just one meet, which is incredible for the season. We had several conference meet records broken by our team, several national invitational qualifiers, we had one swimmer who also qualified for the NCAA's with a B cut. We as a coaching staff won coaching staff of the year for the conference both on the men's side and women's side. We had the Most Outstanding Swimmer on the men's side, the rookie of the year on the women's side in the conference."
Now add to that list the NEC championship.
Not only has the team been making history in the water, they are also working to inspire the next generation of Black swimmers in a sport with only 1.5 percent Black representation.
"As the only HBCU in all of collegiate swimming and diving, this is a special place," Askew says about Howard's historic team.
Members of the team also shared that sentiment.
"Wow. We're really doing this as the all Black team. Like, I would have never expected getting the chance to experience that," says junior swimmer and DMV native Ahmad Dove. 
"To me it means a lot, especially with only 1.5 percent of active swimmers being Black, according to USA Swimming," says senior swimmer Reese Samuel. "I believe it gives us a chance to show kids that look like us that hey just because you go to a team around where you live, and it's all white people, or you compete around all white people or not people that look like you, doesn't mean that they don't exist."
"There's a swimmer that I know, that I used to teach back in the day – he was one of my teammates," Dove adds. "A lot of times when I'm thinking about how hard it is in practice or how much work we're doing, I often think of him. Because he's the next generation, he's who's going to see us on TV and say 'I want to be like them when I get older.'"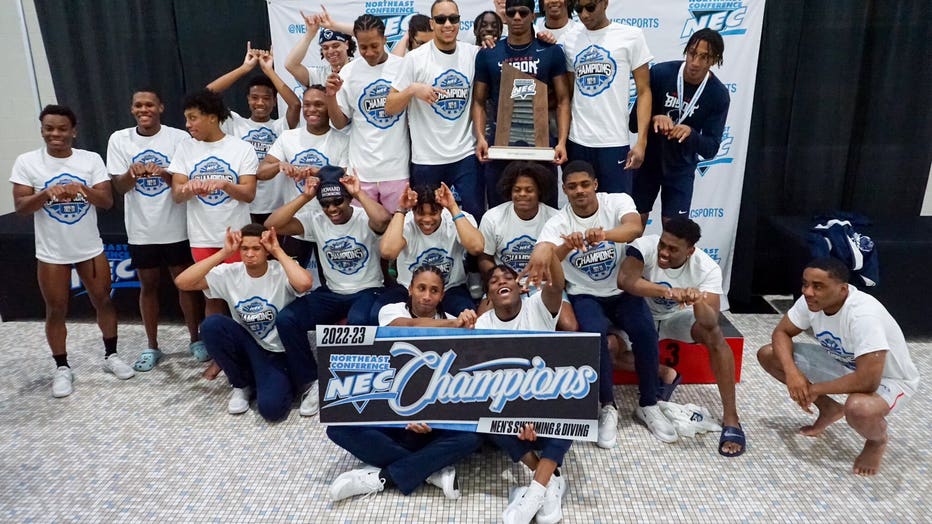 (PHOTO: Northeast Conference)
"For us we know that there's a bigger impact than just touching the wall first, and earning medals and breaking records," says Coach Askew.
The team and their historic season is not done yet as several members of the team will be heading to Indiana in March for the CSCAA National Invitational Championship.