Virginia jury rejects Costa Rican woman's claims about sex trafficking ring
ALEXANDRIA, Va. - A Virginia jury rejected claims by a Costa Rican woman who accused a police chief and three officers of conspiring to protect a sex-trafficking ring she said threatened to harm her family if she ran away. 
An eight-person civil jury in Alexandria found that the woman was not a victim of trafficking but a willing sex worker. Once that conclusion was reached, jurors didn't have to question of the officers' alleged involvement in protecting the prostitution ring.
The officers sued included former Fairfax County Police Chief Edwin Roessler, James Baumstark, a former captain who is now the deputy chief in Asheville, North Carolina, and officers Michael Barbazette and Jason Mardocco. The woman claimed Roessler protected the human trafficking ring in northern Virginia until it was busted in 2019 by the FBI.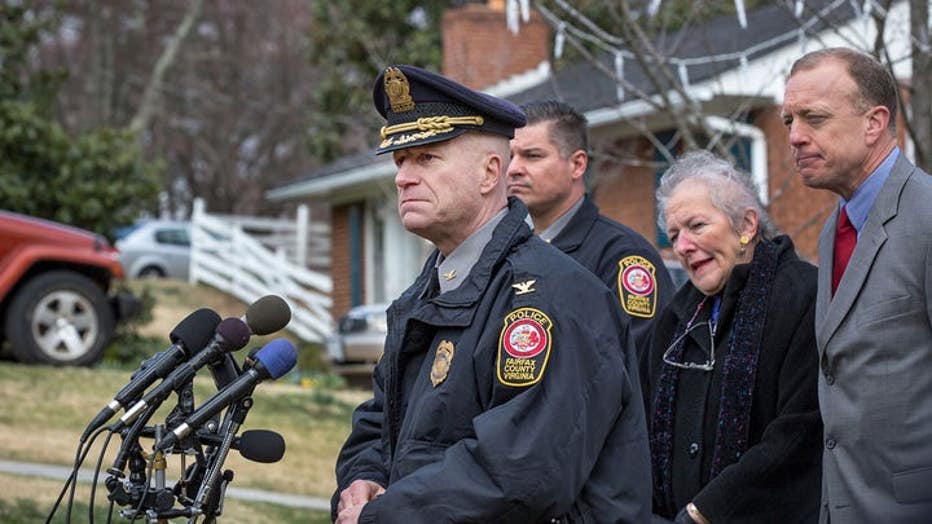 Fairfax County Police Chief Edwin Roessler briefs reporters on reports of a man with a gun entering the USA Today headquarters building on Aug. 7, 2019, in McLean, Va. A woman who says she was lured from Costa Rica into a Virginia-based sex-trafficki
The officers denied the claims. Barbazette and Mardocco admitted to being clients of the ring's leader, Hazel Sanchez, and resigned from the police force after their phone numbers were found in Sanchez's phone. 
The woman, identified in court documents as Jane Doe, claimed she was lured to the United States from Costa Rica in 2010 with promises of work as a nanny, housekeeper and a high-end escort. She said she was told having sex with clients wasn't mandatory. 
She said she was forced to perform sex acts with as many as 17 men a day and that Sanchez kept her employed by confiscating her passport and threatening to harm her family if she ran away. Defense lawyers pointed out that the woman traveled to Costa Rica between 2010 and 2015 and returned to Sanchez each time. She said she did so out of fear for her family's safety. 
"She's willing to say whatever it takes to get what she wants in that moment," Kim Baucom, a lawyer for two of the officers, said in her closing statement.
The woman claimed the officers obstructed efforts to investigate and prosecute Sanchez. 
Taking the stand, the woman broke down while testifying about the degrading sex acts Sanchez forced her to perform on clients under threat and said the officers failed in their duties by not breaking up the ring. 
RELATED: Lawsuit claims Fairfax County police officers protected sex trafficking ring
"They had to protect us," Doe said of the officers, according to The Washington Post. "They had to not be the clients. They didn't have to protect the Hazel ring."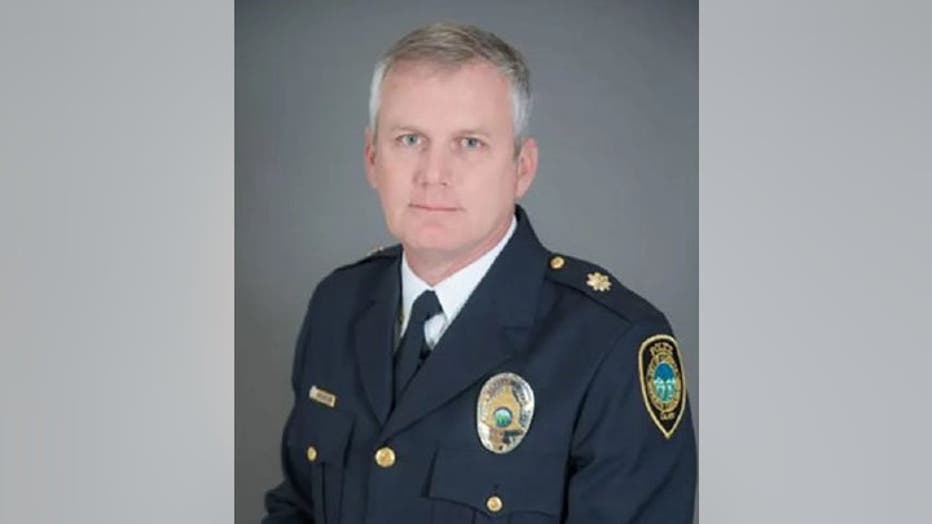 Deputy Chief James "Jim" Baumstark started with the Asheville Police Department (APD) on November 9, 2015. Prior to his arrival, he served with the Fairfax County Police Department (FCDP) in Fairfax, Virginia for more than 26 years. (City of Ashevill
However, defense lawyers pointed to an email exchange between Doe and Sanchez before she came to the U.S., in which they discussed the rates that would be charged to men on dates. Defense lawyers said the discussion of hourly rates did not comport with Doe's claim that she was promised work as a high-end escort who would go on dates with wealthy clients and would only have sex if she chose to.
Sanchez was convicted for running the prostitution ring and sentenced to 2.5 years in prison. 
The Associated Press and Fox News' Danielle Wallace contributed to this report.