Virginia General Assembly to debate abortion restrictions during 2023 legislative session
RICHMOND, Va. - The Virginia General Assembly began its annual legislative session on Wednesday with lawmakers pushing abortion restrictions on day one of the session.
The session is the first in the commonwealth since the Supreme Court decided in June to overturn Roe v. Wade, the landmark 1973 ruling that established a nationwide right to abortion.
Youngkin has said he hopes to pass a 15- or 20-week ban with exceptions for rape, incest and the life of the mother. Such a bill faces a difficult path. It would need to clear a committee disproportionately stacked with Democrats, who have promised to vote down any abortion restrictions, before advancing it to a floor vote, where the chamber is more closely divided on the issue.
The prospects for new restrictions on abortion grew more dim as Democrat Aaron Rouse claimed victory in a race for the Senate seat formerly held by Republican Jen Kiggans, who was elected to Congress in November. The results of the race are still unofficial, but Rouse's opponent, Republican Kevin Adams, issued a statement Wednesday calling Rouse senator-elect. That gives Democrats in the Senate a 22-18 majority in the Senate.
Youngkin downplayed the impact the election results could have on abortion restrictions.
"Doesn't change any of our agenda at all," he told reporters.
A bill introduced Wednesday by Republican Del. Kathy Byron and Republican Sen. Stephen Newman would ban abortions after 15 weeks. Democrats, however, filed a resolution that calls for a constitutional amendment to preserve "the fundamental right to reproductive freedom."
Del. Charniele Herring, the lead patron of the amendment, said it would be consistent with current Virginia law, which allows abortions during the first and second trimesters of pregnancy. Abortions after that time are allowed only if three doctors find that continuation of the pregnancy would likely result in the death of the woman or would irreparably impair the mental or physical health of the woman.
"I think it is well-reasoned. It does not go too far," Herring said.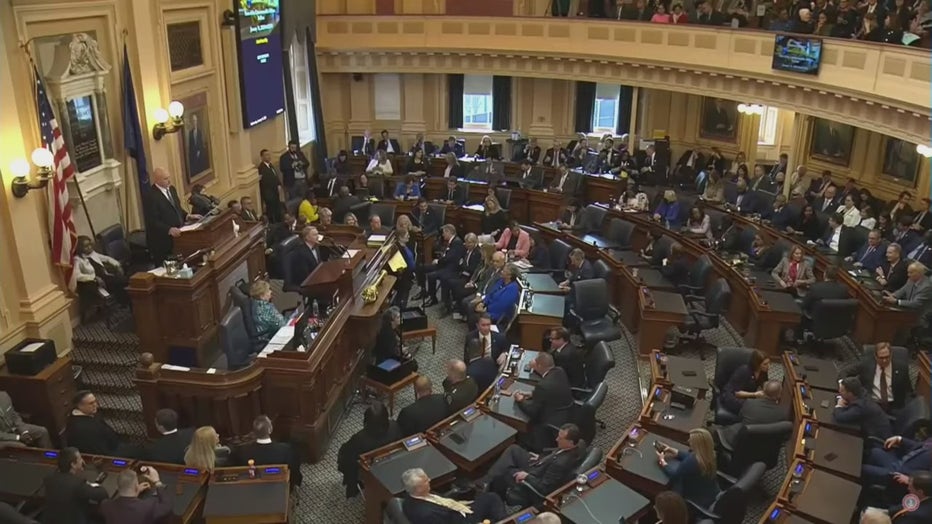 Republican House Speaker Todd Gilbert, who said earlier this week that he is doubtful that "anything of substance" on abortion will be passed by the General Assembly this session, criticized the proposed amendment as "a unfettered approach to abortion outright."
"I think they're certainly trying to lay down a marker, unfortunately, the marker is that they don't favor any restrictions on abortion at any time, right up until the moment of birth," Gilbert said. "This would take that notion and put it into the constitution of Virginia."
The Associated Press contributed to this report.