UMD sees COVID-19 spike first full week of semester, suspends students
COLLEGE PARK, Md. (FOX 5 DC) - The University of Maryland College, Park has suspended 19 students who are alleged to have violated COVID-19-related guidelines as the university reported 85 new cases during the first week of the semester.
The semester began August 31 and the campus is not yet hosting in-person classes, although some students have chosen to come back. Most classes will be held online, but in-person options are expected to begin on September 14.
Download the FOX 5 DC News App for Local Breaking News and Weather
According to the university's COVID-19 dashboard, 85 new cases were reported the week of August 30, a 466 percent increase from the previous week, yet before most students were back on campus.
Despite the steep increase, the school's current positivity rate is 1% for the week of Aug. 30 based on more than 8,000 UMD-administered tests.
CORONAVIRUS IN DC, MARYLAND AND VIRGINIA
According to UMD, the 19 interim suspensions were attributed to failure to comply with COVID-19 guidelines.
Yet the Diamondback reported the university lifted some of the suspensions.
In a statement, the university said, "In reports of noncompliance for behaviors related to the spread of COVID-19, we have stated that we will not hesitate to take swift and severe disciplinary action, if necessary. Not following 4 Maryland healthy behaviors puts our community at risk."
CORONAVIRUS RESOURCES: Everything You Need to Know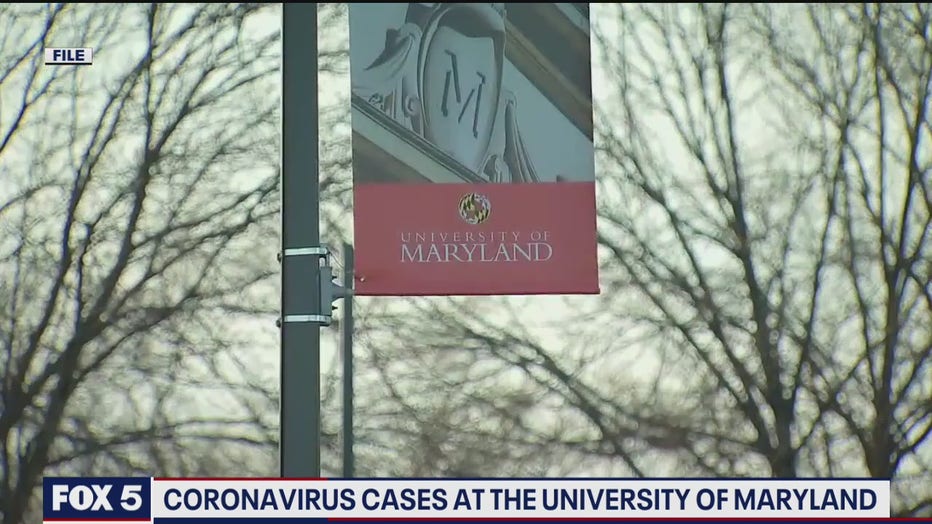 The paper also reported outbreaks in two Greek life houses Sigma Kappa and Phi Delta Theta, and at least one case in a residence hall, Cumberland Hall.
Editor in chief Daisy Grant and reporter Angela Roberts told FOX 5 students have been concerned about the availability of testing on campus.
The university had previously said 46 of the recent cases were linked to student-athletes, forcing the cancellation of all workouts.
On Monday, The Diamondback reported the following:
"A positive coronavirus case at the UMD Sigma Kappa sorority chapter house was a mix-up from the University Health Center. The student tested negative, and residents, who were forced to quarantine last week, can now return to the house."
MORE CORONAVIRUS RESOURCES:
Your coronavirus questions answered
Coronavirus: Symptoms, testing and how to prepare amid growing COVID-19 outbreak
LIVE: Interactive map tracks global spread of COVID-19