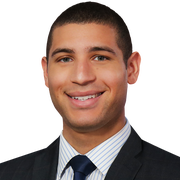 I am an award-winning journalist, who joined the FOX 5 News team in July 2017 from our sister station in Tampa, Fla. I'm thrilled to be back in the DMV, where I grew up.
While covering news in Tampa, with stops along the way in Orlando and Myrtle Beach, S.C., I have reported on numerous stories of national interest. I was my station's lead reporter on one of the hardest stories I've ever had to tell, the Pulse nightclub attack.
I reported live the night a jury reached a not-guilty verdict in the George Zimmerman case, followed developments in the "Loud Music" murder case, and was one of the first reporters on the scene when FBI agents shot and killed an associate of Boston Marathon bombing suspect Tamerlan Tsarnaev.
In Tampa, my relentless reporting on safety concerns over discount airline Allegiant Air, led to an early safety review of the company by the FAA. My career in broadcast journalism began before I graduated high school as a reporter and anchor for Teen Perspective 2News, a teen news show at the ABC affiliate in my hometown of Baltimore.
That's where I developed a passion for storytelling. I am a proud graduate of the University of Maryland's Philip Merrill College of Journalism. Go Terps! When I'm not on-air, you can find me at my Crossfit gym or eating my way through the District.
The latest from Evan Lambert