Timeline reveals delay in response to deadly District Dogs flood
WASHINGTON - D.C. leaders are just now responding to demands for answers about what happened when District Dogs flooded. 
One week ago back on Monday, August 14th, six feet of heavy rain rushed into the pet day care on Rhode Island Avenue in Northeast D.C. — killing 10 dogs.  
Ever since the traumatic situation unfolded, questions have continued to be raised about how this happened, who is at fault, and who needs to be held accountable as a result.
The D.C. Fire and EMS chief, John Donnelly, as well as the Office of Unified Communications director, Heather McGaffin, provided a timeline Monday of what happened when District Dogs flooded.
The first frantic call came in at 5:06 p.m. on Monday, Aug. 14. A District Dogs manager called from Montgomery County as she was watching frightening surveillance video seeing water pouring into the pet daycare and said, "It's flooding horribly. The walls gave out."
At 5:09 p.m., an assistant manager called from Prince George's County and said, "I am watching the cameras and the whole place is flooding, and there are people in there, animals in there, and it's like the whole place is completely flooded.
Nine minutes later, a caller from inside District Dogs told a dispatcher: "We are trapped in water that is above our heads."
At 5:20 p.m. D.C. Fire and EMS arrived in the area and began performing water rescues near District Dog, and realized what was happening inside the doggy day care.
Two minutes later, dispatch officially makes first responders aware of the tragedy and requests assistance.
At 5:29 p.m. D.C. Fire and EMS entered District Dogs and started rescuing staff and dogs.
"I'm sorry for their loss and I wish the outcome could've been different," said D.C. Fire and EMS Chief Donnelly. 
OUC Director McGaffin said she too was "sorry for that loss."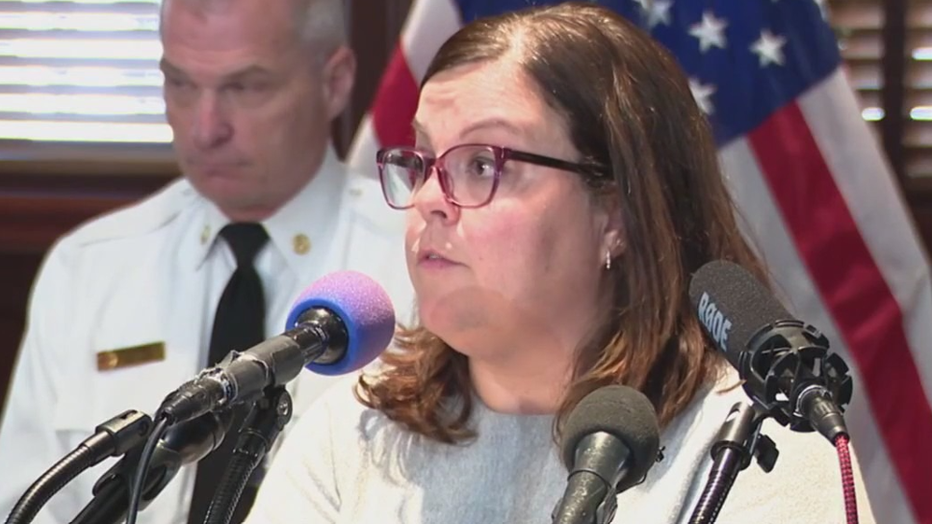 OUC Director Heather McGowan addresses the media one week after 10 dogs died inside District Dogs' Rhode Island Avenue location.
"Losing a dog is hard, and I am so incredibly sorry," she told reporters Monday. "We're also looking at different ways we can also provide service when animals are involved. It's not something we've historically looked at but are committed to in the future as well."
There are still questions about why there was no sense of urgency after the caller who dialed 911 said, "the whole building is going underwater right now."
OUC admits a dispatcher misspoke and said there was a water leak initially minimizing the severity of the situation that ultimately resulted in fatalities.
D.C. Fire and EMS says there was a delay of response because there was no clear radio dispatch about the seriousness of what was happening at the scene.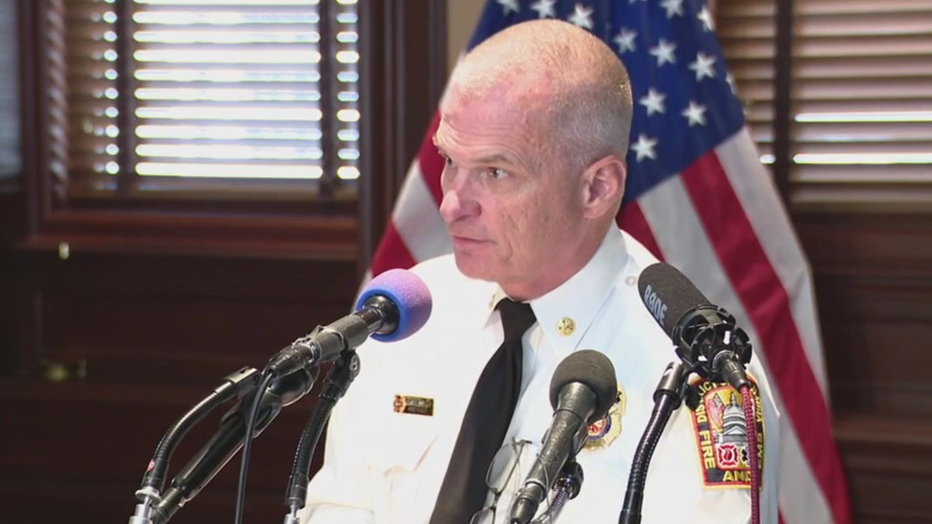 DC Fire and EMS Chief John Donnelly
Both departments mentioned there needs to be better communication during emergencies.
"We would have done things differently," McGaffin said. "This was an unprecedented event and so now as we look at what we could have done differently we are making changes."
Right now, Chief Donnelly said he is checking on whether the radio dispatch from that day can be released.
While city leaders tried to provide some clarity, some dog owners will never get their furry friends back and they're heartbroken.