'This is not a new rule': TSA seizes loaded 9mm from woman trying to board flight at Dulles International
DULLES, Va. - TSA officers at Dulles International Airport seized a loaded 9mm handgun from a Maryland woman flying out for a Labor Day weekend trip. 
Officials say the woman, who is a resident of Indian Head, Md., was not allowed to board her flight on Wednesday, Aug. 30, after officers found the 9mm handgun loaded with 10 bullets.
The weapon was caught as the woman entered the security checkpoint. 
TSA officials notified the Metropolitan Washington Airports Authority Police who confiscated the gun and cited the woman on a weapons charge. 
In addition to the citation by airport police, she now faces a stiff financial civil penalty. Civil penalties for carrying weapons can reach a maximum of $15,000.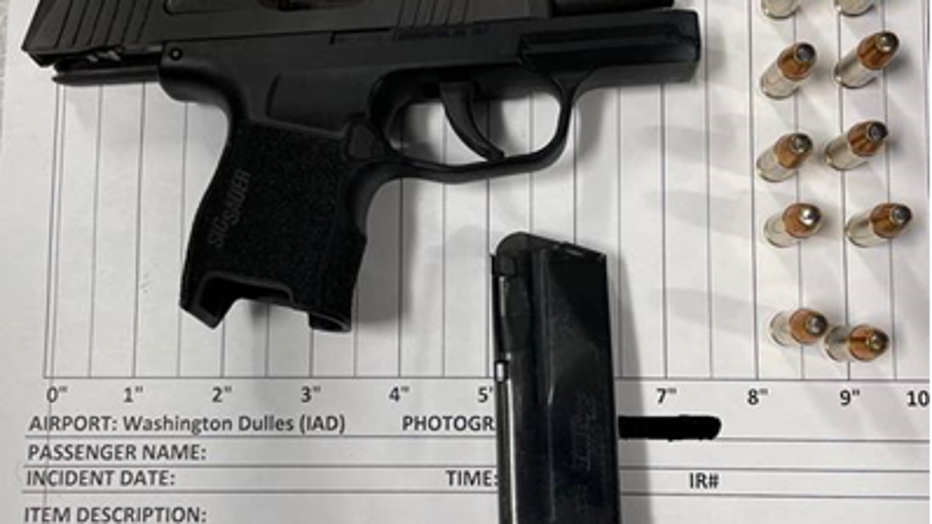 "Labor Day holiday travel is underway and when travelers bring prohibited or illegal items such as a loaded gun to any of our security checkpoints, it slows down the screening process during a very busy time of year," said Scott T. Johnson, TSA's Federal Security Director for the airport. "Guns should never be brought to the security checkpoint in carry-on luggage. This is not a new rule."
TSA reminds travelers that firearms are only in checked baggage if they are unloaded and packed in a hard-sided locked case. Then the locked case should be taken to the airline check-in counter to be declared. 
The agency reports that more than 6,500 firearms were caught at more than 230 airport security checkpoints nationwide and 88% of those guns were loaded.