Tastee Diner serves its last meal in Silver Spring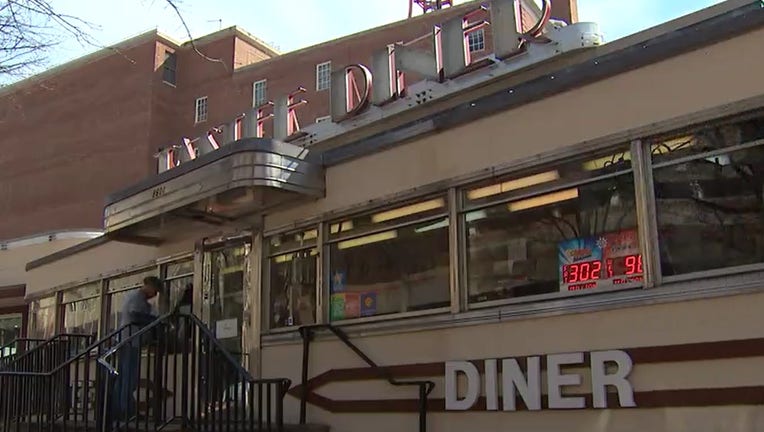 article
SILVER SPRING, Md. - One of the most famous diners in Montgomery County is unplugging the griddles, wiping down table tops one last time, and turning off the neon lights for good. 
Tastee Diner's Silver Spring location closed abruptly Wednesday due to what owner Gene Wilkes called "personal medical reasons."
A sign taped to the front door read, "Sorry. The Tastee Diner of Silver Spring has closed. Thank you for the opportunity of letting us serve you for so many years."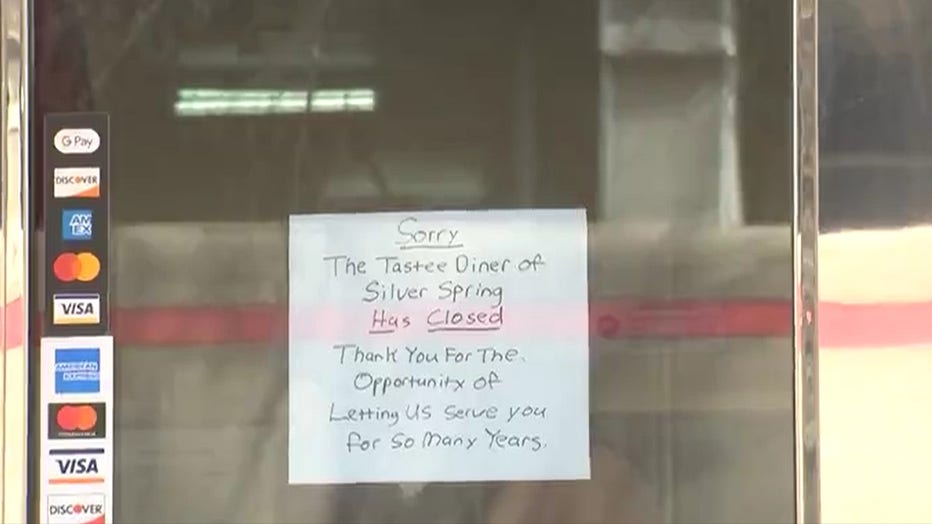 Wilkes said that he sold the local staple to Roadside Development, a D.C. based real estate firm. 
"I need to spend more time focusing on my personal life and could no longer operate in this location, but I am elated that the original dining car will be incorporated into the new design," he said in a statement. "I have full faith in Roadside, and I am confident they will find a creative way to incorporate or repurpose the original dining car."
Tastee's closure coincided with Roadside's announcement Wednesday, outlining its plan to redevelop the location at 8601 Cameron St. into a mixed-use residential space. 
Silver Spring native Jeff Edelstein, a partner at Roadside, said that he got to know Wilkes over the past year before inking the deal. 
"He has entrusted us with this opportunity and Roadside is honored to be able to breathe new life into the block and continue to grow this dynamic part of Silver Spring's ever-evolving downtown," Edelstein said. "As a Silver Spring native myself, I have a deep appreciation for the history and culture of this vibrant community. It is a true privilege to be able to showcase Roadside's passion for the community by incorporating Tastee Diner's original dining car into the project."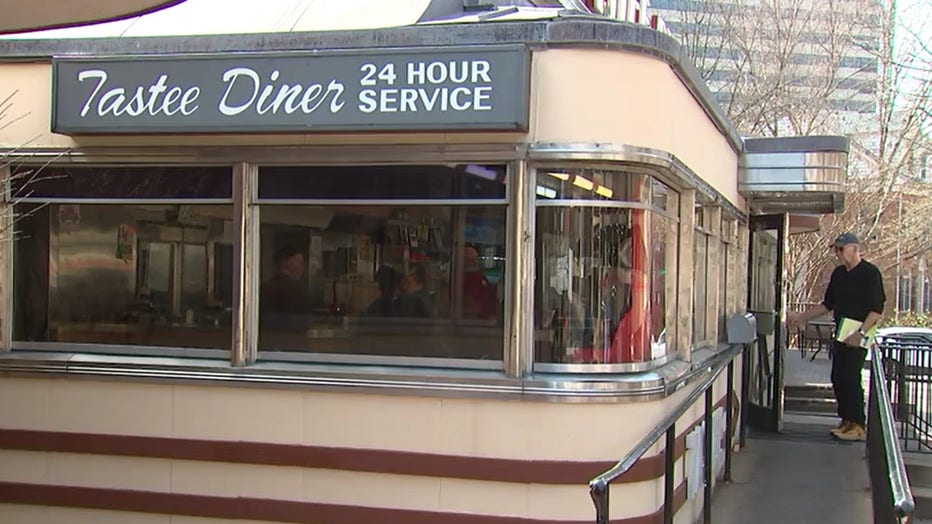 Tastee Diner has called Silver Spring home for well over half a century. The original location opened on the corner of Wayne Avenue and Georgia Avenue in 1946, and the classic railroad car design was built on-site by the Jerry O'Mahoney Diner Company. 
Wilkes bought the diner in 1988, and six years later it was declared a historic landmark by the Montgomery County Council.
The popular spot, which served breakfast all day and other tasty American cuisine, was forced to relocate in June 2000 to make room for the construction of the former Discovery Channel headquarters. Wilkes took a portion of the dining cab to its current location, and the rest was history. 
On Wednesday morning, FOX 5 spoke to a few patrons before they enjoyed their last meal at the diner. 
"It's heartbreaking," said Maurice, who was on his way into the diner for lunch. "I come in here, eat breakfast, lunch and late-night dinner sometimes when I have to spend the night at my job - overtime. I love this place. I love the workers. The food is great. It's a hurting feeling knowing that they're shutting down."
Another regular at the restaurant, John, was in the area after finishing up lunch with his grandson. 
"This is our favorite after-preschool diner," he said. "We come here to the diner to have lunch before we do adventures and fun. And we're shocked to hear that they're closing. We're going to miss them. We both love the grilled cheese."  
"I'm sad because I wanted to have one more meal here," said Pete, who just missed the last call. "This is one of my regular lunchtime places. It's an institution from the 1930s. It's a wonderful place and I don't know why it's closing. It's very sad."
James Tanner said he's been coming to Tastee Diner in Silver Spring since 2006.
"I definitely love their breakfast," he said. "I ran over here just for the last meal and to play the lotto. Hopefully, I can win that Mega Million. I will miss Tastee Diner. I'm not much of a Denny's or House of Pancakes person. It's just the atmosphere that really sets it apart. I can sit here and just kind of meditate while I eat. Like family, most definitely. I'm gonna really miss it."