Smash-and-grab thieves ransack Tysons Corner Center jewelry store
FAIRFAX COUNTY, Va. - A smash and grab robbery at a Tysons Corner Center jewelry store Thursday afternoon left shoppers and employees shocked.
Witnesses say robbers armed with guns and hammers walked into the mall, shattered a glass case, ran out with stolen items, and drove away. 
According to police, the suspects who entered the store were two men.
Fairfax County Police provided few details, saying the call came in at 2:46 p.m. and no arrests had been made.
The store targeted was Prince Jewelers Diamonds and Watches. The glass case that was broken appeared to have Rolex watches inside.
"I couldn't even think about anything because it happened too quick," said Serkan Golcukluoglu, a manager at Vinci, the leather store next door.
Golcukluoglu said he walked into the mall right behind the three men.
"I came to the store and I kept watching them and something felt uncomfortable. It's not right," he said. "And they kept looking around and then within ten seconds in our store we started hearing a banging noise. When we peeked through the corner of the store, we saw somebody just smashing the display of the jewelry store."
Other witnesses said one man stood outside the store while two smashed the case.
Golcukluoglu said the robbers ran out the same nearby doors they came in, and another employee witnessed them getting into a vehicle and speeding off. Police said that vehicle was a Dodge truck that was stolen earlier in the day, and then later found in a nearby parking lot.
Police haven't released any surveillance images. There are multiple cameras around the mall entrance doors and one mall worker says she saw a shopper record the robbery on her cell phone.
Fairfax County police were at the mall for about four hours and took fingerprints from the door handles.
Back in June, a local rapper fired a gun inside the mall, causing mass panic. Some employees who were working that day also witnessed Thursday's robbery.
"I would actually really appreciate if they could put X-ray machines at the mall entrances with all this stuff going on," Golcukluoglu said. "In Europe they have it everywhere so you can't just walk into the mall with a gun. That would be one thing that will make everybody feel maybe a little bit more secure."
A man inside Prince Jewelers declined to comment.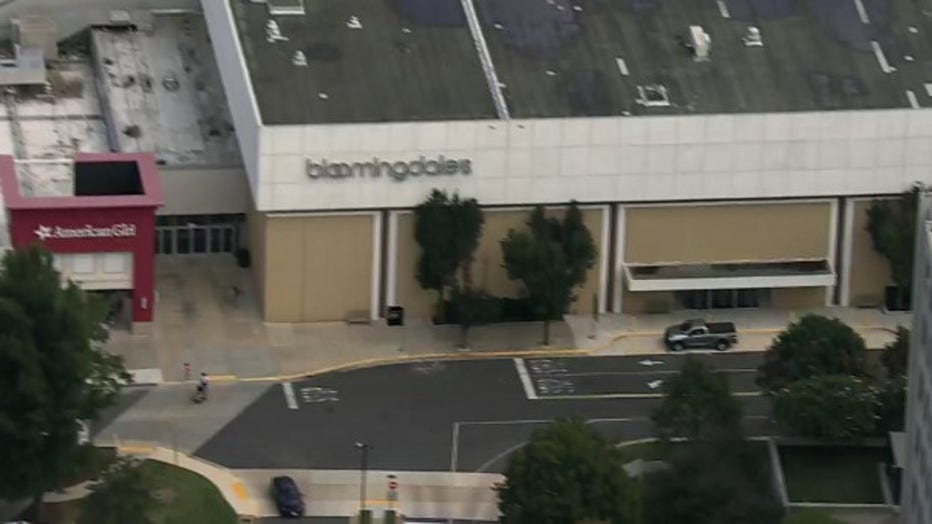 Virginia Attorney General Jason Miyares quoted FOX 5's tweet about the incident writing: "Organized Retail Crime is a national crisis. My office is actively looking at solutions to be considered by the GA in 2023. Theft and violence will not be tolerated in the Commonwealth."
At this time, the value of the items has not been disclosed.