Scooters on sidewalks? Arlington County considers new dockless ride regulations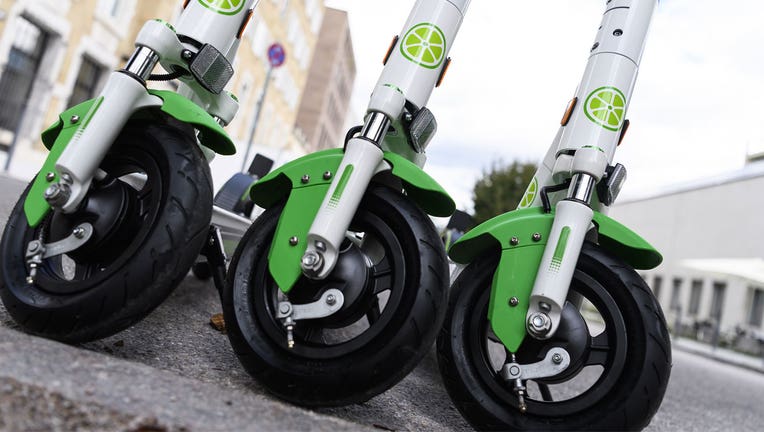 ARLINGTON, Va. - Capping scooter speeds and allowing dockless rides on sidewalks are some of the proposals Arlington County officials will consider next month.
Officials released the proposed scooter regulations ahead of the county board meeting Nov. 16.
The proposals arrive after what officials are calling a successful e-scooter pilot program, which included nearly 500,000 trips over its first 10 months. 
"Our community has a wide variety of opinions about e-scooters and e-bikes," Arlington County Board Chair Christian Dorsey said in a statement. "But the demonstration project clearly showed these devices are serving a need and add another safer, more sustainable travel option than driving a car."
County staff will recommend the board adopt new regulations allowing scooter commuters to ride on any sidewalk except on streets with protected bicycle lanes. The proposed ordinance would cap scooter speeds to 15 miles-per-hour on the street and six miles-per-hour on sidewalks.
Electric bicycles would be capped to 20 miles-per-hour on the street and six miles-per-hour on sidewalks. 
Officials will also consider mandating that 15 percent of dockless bikes and scooters be deployed every morning outside the county's Rosslyn-Ballton and Route 1 development corridors. Vendors like Jump and Bird would also be required to offer discounts to lower-income residents. 
Staff found there were about 80,000 scooter trips per month this summer in Arlington County.
Arlington County introduced its e-scooter pilot program in October 2018 and extended it this summer. County staff found 31 percent of e-scooter users reported using their personal vehicles less frequently and 38 percent reported using ride-hailing services less frequently. About a third of all trips were reported directly replacing potential automobile trips.
The proposed dockless ride ordinance would take effect on Jan. 1.
The public is invited to share ideas and concerns at the Nov. 16 meeting.