Microsoft hires OpenAI founder Sam Altman after being ousted
LONDON - The new head of ChatGPT maker OpenAI said Monday that he would launch an investigation into the firing of co-founder Sam Altman and work to reform the company's management following a corporate shakeup that shocked the artificial intelligence world.
The developments come after a weekend of drama and speculation about how the power dynamics would shake out at OpenAI, whose chatbot kicked off the generative AI craze by producing human-like text, images, video and music.
It ended with former Twitch leader Emmett Shear taking over as OpenAI's interim chief executive and Microsoft announcing it was hiring Altman and OpenAI co-founder and former President Greg Brockman to lead a new advanced AI research team.
Despite the rift between the key players behind ChatGPT and the company they helped build, both Shear and Microsoft Chairman and CEO Satya Nadella tweeted that they are committed to their partnership.
Microsoft invested billions of dollars in the startup and helped provide the computing power to run its AI systems. Nadella wrote on X, formerly known as Twitter, that he was "extremely excited" to bring on the former executives of OpenAI and looked "forward to getting to know" Shear and the rest of the management team.
In reply on X, Altman said "the mission continues," while Brockman posted, "We are going to build something new & it will be incredible."
RELATED: AI has ability to detect future heart attack: study
OpenAI said Friday that Altman was pushed out after a review found he was "not consistently candid in his communications" with the board of directors, which had lost confidence in his ability to lead the company.
In a post Monday on X, Shear said he would hire an independent investigator to look into what led up to Altman's ouster and write a report within 30 days.
"It's clear that the process and communications around Sam's removal has been handled very badly, which has seriously damaged our trust," wrote Shear, who co-founded Twitch, an Amazon-owned livestreaming service popular with video gamers.
He said he also plans in the next month to "reform the management and leadership team in light of recent departures into an effective force" and speak with employees, investors and customers.
After that, Shear said he would "drive changes in the organization," including "significant governance changes if necessary." He noted that the reason behind the board removing Altman was not a "specific disagreement on safety."
OpenAI last week declined to answer questions on what Altman's alleged lack of candor was about. Its statement said his behavior was hindering the board's ability to exercise its responsibilities.
An OpenAI spokeswoman didn't immediately reply to an email Monday seeking comment. A Microsoft representative said the company would not be commenting beyond its CEO's statement.
After Altman was pushed out Friday, he stirred speculation that he might be coming back into the fold in a series of tweets. He posted a photo of himself with an OpenAI guest pass on Sunday, saying this is "first and last time i ever wear one of these."
Hours earlier, he tweeted, "i love the openai team so much," which drew heart replies from Brockman, who quit after Altman was fired, and Mira Murati, OpenAI's chief technology officer who was initially named as interim CEO.
It's not clear what transpired between the announcement of Murati's interim role Friday and Shear's hiring, though she was among the employees on Monday who tweeted, "OpenAI is nothing without its people." Altman replied to many with heart emojis.
Shear said he stepped down as Twitch CEO because of the birth of his now-9-month-old son but "took this job because I believe that OpenAI is one of the most important companies currently in existence."
"Ultimately I felt that I had a duty to help if I could," he tweeted.
Altman had helped catapult ChatGPT to global fame and in the past year has become Silicon Valley's most sought-after voice on the promise and potential dangers of artificial intelligence.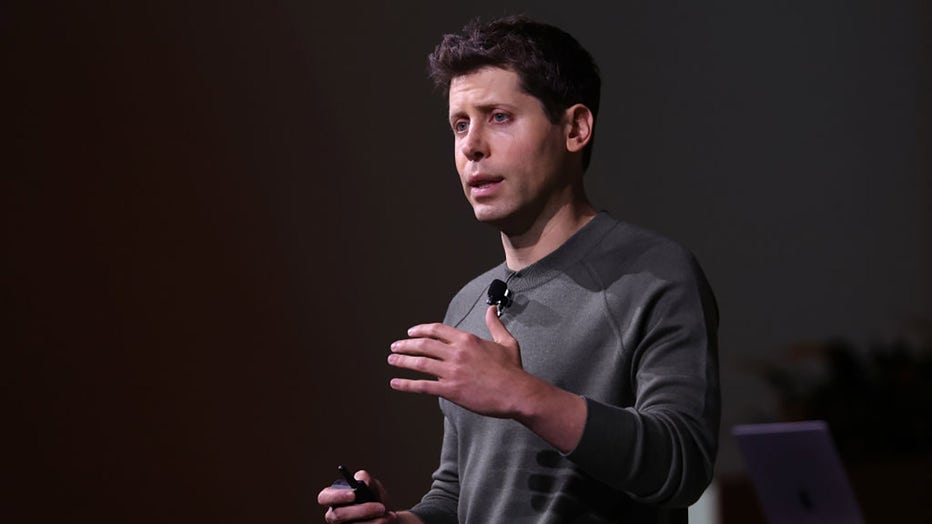 FILE - OpenAI CEO Sam Altman speaks during the OpenAI DevDay event on Nov. 6, 2023, in San Francisco, California. (Photo by Justin Sullivan/Getty Images)
He went on a world tour to meet with government officials earlier this year, drawing big crowds at public events as he discussed both the risks of AI and attempts to regulate the emerging technology.
Altman posted Friday on X that "i loved my time at openai" and later called what happened a "weird experience."
The Associated Press and OpenAI have a licensing and technology agreement allowing OpenAI access to part of the AP's text archives.
___
AP writer Brian P. D. Hannon contributed from Bangkok.