Puppy killed and left on Richmond Highway
WOODBRIDGE, Va. - Police and animal activists in Northern Virginia are looking for the person who killed a puppy and left it for dead on the side of the highway.
The puppy was found right below the I-95 South exit sign headed toward the Woodbridge area.
Roya Darvishian told FOX 5 she and her sister saw the dog Monday night on the side of the road near Richmond Highway in Fairfax County and called police.
"The dog was thrown out on the road, and we saw that it had cords wrapped around her neck and her feet like she had been strangled to death," Darvishian recalled. "It appeared she had been thrown out with a black trash bag."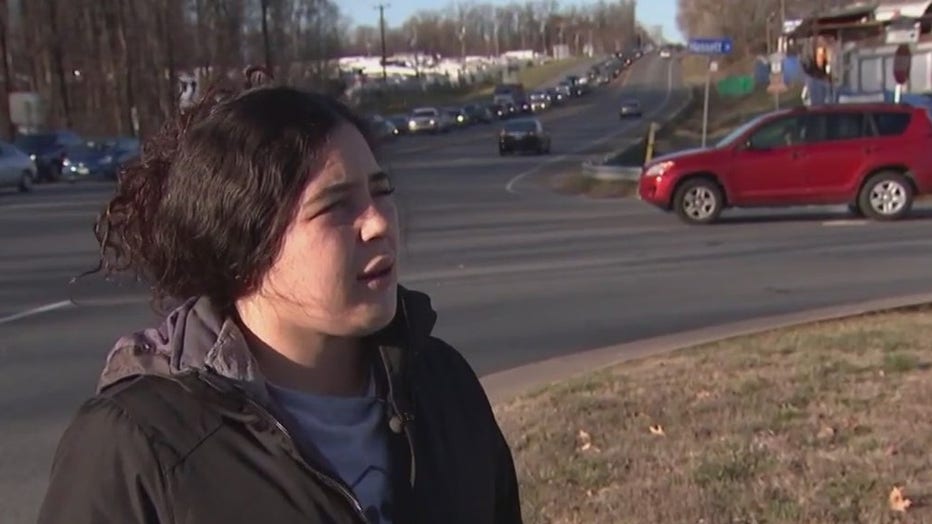 "Maybe the dog had been dead for only a couple hours, it had just happened," she added.
The puppy was bound together by zip ties and a USB cord.
"It was a USB cord like an old charger for an android that they had tore apart and wrapped twice around her neck very, very tight. And also wrapped on her bottom legs," she explained. 
The puppy looked like it was a tan Staffordshire pit bull terrier about six months old.
A ripped bag full of trash was found not far from the dog's body.
"Whatever they did to her, they were cleaning it up and put it all into one bag, including her, and chucked it out the window," Darvishian said. "Looked like she had definitely suffered through her short life, and then they discarded her when they no longer needed her."
Darvishian told FOX 5 she called the state police first but no one responded. 
So, she took the dog home and called Fairfax County Animal Control in the morning to see if the dog was microchipped.
It was not, but she's hoping someone will recognize it and be able to help Fairfax County police find the person responsible.
"I think that this person should not be allowed to have animals … should not be allowed to be around kids," she said. "This person is dangerous and whoever it is needs to be charged with a felony, animal cruelty."
The dog is currently at Fairfax Animal Shelter where a necropsy is being done.
Fairfax County police are actively investigating and ask anyone with information to call their Animal Protection Police at 703-691-2131 or email FCPDAnimalProtection@FairfaxCounty.gov.